I Know San Diego Couples 1/2 Day City Tour & Lunch
San Diego Publisher Barry Berndes was recently awarded a "Barry Berndes Day" by the San Diego City Council for his important contribution to the city of San Diego of sharing his knowledge of the city with 20 million visitors annually.
San Diego city tours with sightseeing and lunch with local celebrity, and internationally acclaimed writer and publisher Barry Berndes of the SAN DIEGAN | SanDiegan.com is an experience not to miss. A testament to his knowledge of what makes San Diego tick is that he has written 50 annual guidebooks featuring 100's of San Diego city sightseeing tours during his remarkable career.  His current edition is in 15,000 hotel rooms making it the best read and most extensively used guide to San Diego. Barry's online and print version is used by over 400,000 visitors daily to discover Barry's handpicked recommendations for what to see and where to dine.
San Diego Tour Cost & How to Make a Reservation
A half day personalized private San Diego tour with the Publisher of the SAN DIEGAN and SanDiegan.com  is ($100) per person (cash only). Tour limit is one couple. Payment is due in full at the meetup. You are responsible for paying your own expenses and half of the tip at the restaurant. His exclusive personal tours include dining with him at one of the 10,000 restaurants he has personally reviewed. Transportation can either be in his car or yours. The San Diego city tour will be by car with periodic stops for a walking excursion. If any admissions to museums are required, you will pay your own way and he will pay for his own expenses. You are paying for his insider information on how to navigate the city with ease. For an exclusive San Diego City Tour reservation email Barry at Barry@SanDiegan.com. Provide your phone number, specific date requested, and the number of people wishing to take this exclusive San Diego city tour. Seniors are welcome! It will be fun!
You'll Receive an Autographed Copy of the 50th Annual Edition of the SAN DIEGAN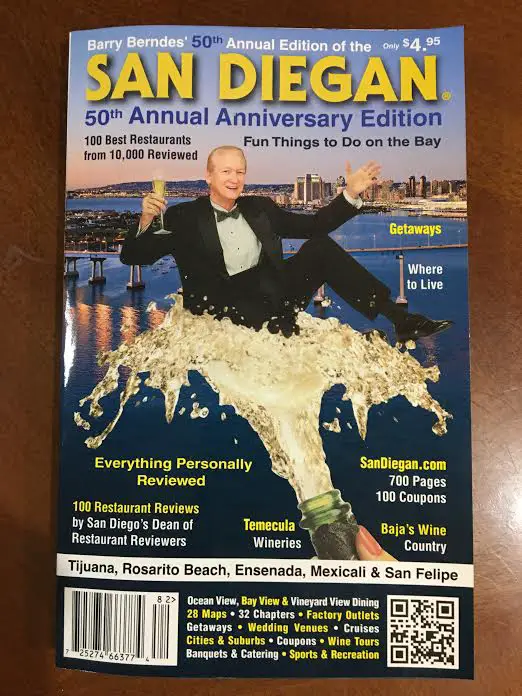 You will also receive an autographed copy of his 50th Annual Anniversary Edition of the SAN DIEGAN. He'll also show you how to use it to tour the city with ease. His current book includes 32 city tours and 28 maps, plus 16  useful coupons and TONS of insightful tour information that only a San Diego insider would know about San Diego. This digest-sized book also has a huge index and a top of the page chapter reference.  So it's easy-to-use and hard to put down because it's jammed packed with TONS of valuable sightseeing information. That's why it's also the #1 ranked newcomer book according to Google. Newcomers devour this book because all of the information has been personally reviewed and every recommendation has been personally inspected. Imaging, that your best friend is giving you a tour of your new hometown. That's why The Washington Post Travel Writer hailed it as the best travel guide to San Diego and why 100's newspapers and magazines have touted this book too! Newcomers use it to entertain their out-of-town guests. They have a TON.
The SAN DIEGAN |SanDiegan.com is the #1 City Guide used by 20  million people annually
All of the information recommended information is personally researched and reviewed by publisher Barry Berndes. He also appears on the cover of all of his books dining in great restaurants or drinking champagne. Since 1969, Barry has been engaged in writing the "Honest Guide" to San Diego, by reviewing every aspect of his hometown including dining in 10,000's of restaurants. He goes unannounced, paying for his own meals and inspecting the kitchens of each restaurant he reviews. This is your assurance that you will receive the same experience he enjoyed. With over 5 million copies in print, he has gained international recognition with numerous on-air interviews and numerous articles written about him. In fact, his San Diego sightseeing tour books are actively used by virtually everyone including locals, newcomers, and visitors who follow his recommendations annually online and in print, Thus, the rare opportunity of having a sightseeing tour of San Diego and dining with Barry should not be missed.
Tour San Diego and Enjoy a Meal with San Diego's Dean of Restaurant Reviewers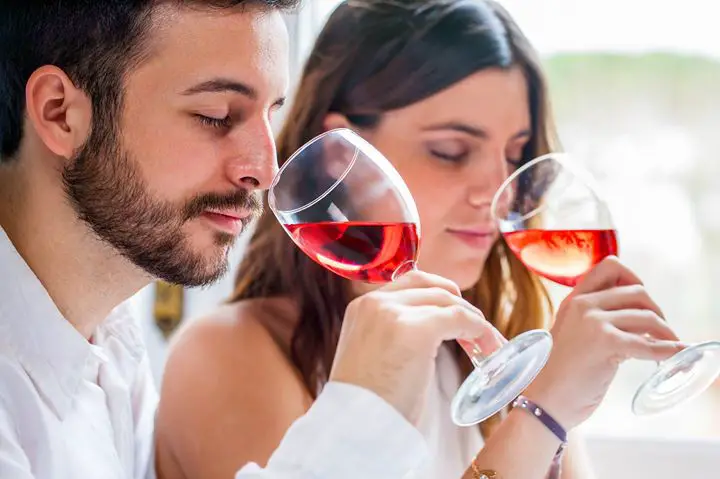 Publisher Barry Berndes' city sightseeing half day one couple only at a time private tour of the city will also include lunch at one of the famous San Diego Restaurants Barry has personally dined in. Plus, he'll show you how he does his restaurant reviews, so you can do the same in the future. Barry has literally dined in 10,000 restaurants during his 50-year career, so he truly knows the best restaurants in San Diego. Expect the best!
Discover the Best of San Diego and get a Local Perspective of the Best of San Diego
What makes his private one couple at a time San Diego Sightseeing adventure so valuable is that Barry offers his insight of each suburb from growing up in San Diego from the 1940's through the present. Barry was also an officer in the navy in San Diego, and he served on the USS Midway during the Vietnam War.
He'll also take the time to show you what streets and byways that residents use to navigate the city vs. a not so informative commercial San Diego City bus tour. He wants you to be able to navigate the city like a local. He'll take you on side trips and through historical suburbs and explain why they are significant in getting to know the city of San Diego.  He'll point out great places to dine and places to shop. These tips are what makes his San Diego couples only city tours so incredibly valuable. It's just like your best friend was introducing you to the city,  in getting to know San Diego.
If you like beer, he'll introduce you to the top microbreweries in America. His personalized San Diego City private couple only tours are just like what your best friend would be giving you if they lived in San Diego. Thus, his personalized San Diego couple only private city tours offer an incredible insight into what makes San Diego tick.   His private couple only tours also include dining in one of the suburbs you'll visit with the cuisine of your choice. His couple only private custom tours are also offered for newcomers with tips on how to acclimate to San Diego with visits to key suburbs of your choice.
Suggested San Diego Private Couple Only San Diego City Tours:
A. Cabrillo Monument, Point Loma, Shelter Island, Liberty Station, Harbor Island, and the Embarcadero. No visit to San Diego would be complete without visiting Cabrillo Monument with its panoramic view of the city and beyond. Wandering thru the suburbs which comprise Point Loma will make you fall in love with these suburbs. You'll conclude your tour with a meal at a romantic bayfront restaurant, which will just be the beginning of a vacation to remember. With an autographed copy in hand, and Barry's personal tips of what to see and where to go you won't miss a beat!

B. Old Town, Presidio Hills, Mission Hills, Middle Town, Little Italy. Historic Old Town is a "must visit" if you enjoy wandering through historic attractions along with sipping a frosty margarita and listening to festive mariachi music performed by strolling musicians. Totally overlooked by commercial tour companies is tying together historic Mission Hills just above Old Town along with Middle Town and finally LIttle Italy into a historic adventure.
C. Downtown's Suburbs are comprised of little Italy, The Embarcadero, East Village, The Gaslamp District, The Uptown District, and Hillcrest. If you're staying downtown and want to get a lay of the land, then expect to enjoy a meal or at least a cocktail at Mr. A's. Here you'll have your breath taken away with its sweeping view of the city at twilight against the backdrop of planes landing at the airport and the sparkling San Diego Harbor. But a visit to this world-renowned French Restaurant is just the top of the iceberg in your discovery of what makes downtown tick.
D. Downtown San Diego's  Embarcadero is a "must-see" attraction! It has no less than seven must-see floating attractions they include historic San Diego Maritime Museum. Here you can board every vessel including the oldest floating Merchant Ship in the World along with boarding a submarine and other historic relics. Then two blocks away is the USS Midway CVA-41 aircraft carrier, which is the most visited attraction in San Diego. Yes, its popularity even surpasses the San Diego Zoo. As for dining, next door is the equally famous Fish Market Restaurant. We can either dine upstairs in their upscale gourmet restaurant or on the main floor restaurants for the freshest seafood and the best bay views. But if it's steaks you want, they Ruth's Chris is just down the block. It offers an ocean view as well. Other attractions include Seaport Village and the Headquarters, two touristy shopping and dining destinations visitors never hire of seeing. Further along the Embarcadero are gigantic hotels and restaurants galore.  Hard to overlook is the gigantic San Diego Convention Center, which is home to 100's of conventions a year including the world famous Comicon.
E. Coronado. Coronado is such a delight!  We can get there via a ferryboat ride across the harbor or by car across the 1.4-mile long bridge affording us a sweeping view of the city, the harbor, the South Bay, Mexico and beyond. Must see attractions include the historic Hotel Del Coronado, The Shops at the Hotel Del Coronado, (perhaps a meal), a stroll down Orange Avenue for an ice cream cone or to dine there. Plus, sightseeing the magnificent homes of the rich and famous is a treat. Not to be missed is the impressive Coronado Ferry Landing Marketplace, which is home to outstanding restaurants and delightful shops. Then if we came by ferry we can disembark back across San Diego Bay to downtown San Diego. Oh, what an adventure!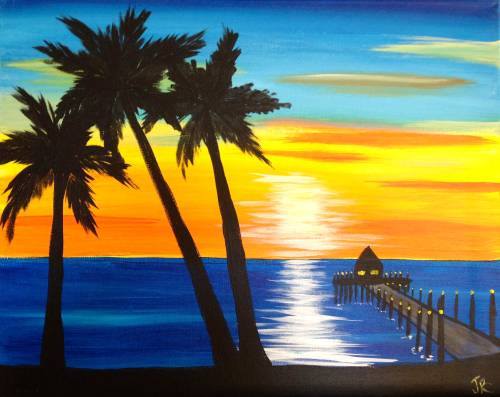 G. The Coastal Zone: It being at spectacular Cabrillo Monument, which offers awesome harbor and city views. Then we'll wander down the mountain to Ocean Beach, San Diego's classic beach town. Then heading north you'll visit Mission Beach and see one of only two roller coasters in California. Your next destination will be the popular Pacific Beach a popular place to live.  Finally, we'll head up to the top of Mt. Soledad for a breathtaking 360 degrees View of the City. Then we'll wander down to the world famous La Jolla Shores to see the chic Village of La Jolla, which is a "must see" coastal adventure. Having eaten in 100's of restaurants along this coastal journey, I'd recommend a cocktail or meal at the world famous Marine Room Restaurant. At high tide, the waves actually crash on the windows of this dining classic. Yes, you will have your hands full trying to decide where to dine along this coastal excursion. The most restaurants I have ever eaten in a day was five, and over my 50-year career as a restaurant reviewer, I have reviewed 10,000 restaurants. https://sandiegan.com/north-coast-rep-theater/https://sandiegan.com/the-marine-room-superb-oceanfront-dining-and-dancing/
H. Microbrewery Tour. Each November San Diego Celebrates the fact that it's the microbrewery capital of the World with literally hundreds of events. What makes San Diego the Beer Capital of the World is based on the fact that San Diego has won more Gold, Blue and Silver Ribbons at more Brewery Events than any other city in the world. And you are in luck, I have has a beer in almost all of them. So if you are looking for a brewery tour, I can create an awesome one for you. In fact, in my current 50th Annual Anniversary Edition, I feature a tour of 12 outstanding breweries encompassing a 4-mile radius of Mission Valley.  Even better it includes the top three microbreweries in the world. They are Stone Brewing World Bistro and Gardens, Ballast Point Brewery, and Coronado Brewery. These are the giants in the industry. No less impressive is Pizza Port, a local favorite founded in the 1980's, which is also appreciated for its hot pizzas. Then there is The Belching Beaver, Mike Hess Brewing Company and lots more. We could top off this sightseeing excursion with a meal at the World Famous Phil's BBQ. It's your choice!https://sandiegan.com/san-diego-coupons/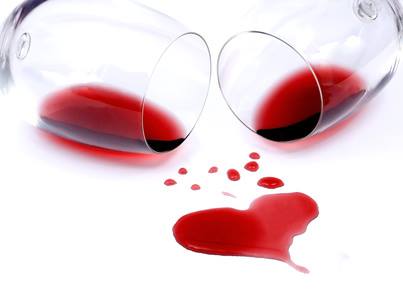 I. Create Your Own Tour:  Since I know San Diego like the back of my hand, I am sure that I can create a tour to your liking. For example, San Diego is also home to the largest Asian Restaurant Row in America. Believe it or not but over 100 Asian Restaurants can be found side by side along a 1.5 mill thoroughfare in Kearny Mesa. I've eaten in most of them and can create a dining experience you won't forget.https://sandiegan.com/fun-things-around-san-diego-bay-year-round-activity/
Expect a Fun Outing
Barry loves his hometown and enjoys taking friends on a personalized excursion of his city. He grew up in San Diego attending grammar school through college and was an officer in the navy in San Diego as well. So he knows San Diego.  He has experienced San Diego in many ways as a newcomer, visitor, and resident of San Diego. Thus, he can shed a great deal of light into how best to accumulate to his hometown.
So expect a fun casual outing with lots to see, good conversation and laughter. Dining with Barry is quite an eye-owning adventure you'll surely enjoy as many who have dined with him will attest to discovering a totally new and exhilarating way to dine.
Bon Appetit