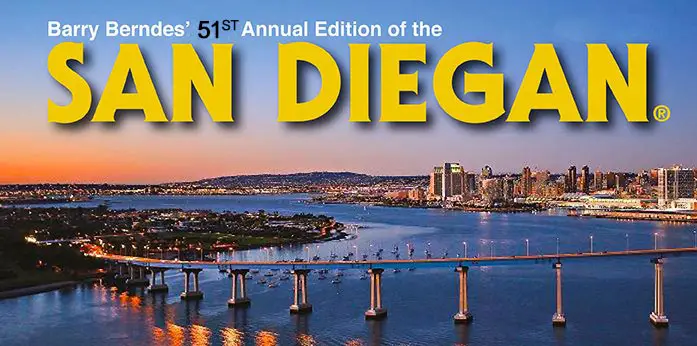 #1 Ranked
San Diego Top 100
Best
Attractions,
Restaurant Reviews, Shopping, Things to do, Coupons
220,000 people a week follow the personal recommendations of publisher Barry Berndes. His recommendations are published in his heralded SanDiegan.com and on his SOCIAL MEDIA PAGES.  The San DIEGAN is celebrating its 51st. year. It's the local resource that over 11 million newcomers, visitors, and residents rely on to find FOOD, DRINK & ENTERTAINMENT.
51st Yr.

#1 San Diego Insider Shows You the Real City
San Diego local Barry Berndes has spent the past 50 years writing the "honest guidebook to San Diego" by dining in 10,000 restaurants, paying for his own meals and inspecting the kitchens. Then he has written accurate reviews enjoyed by millions of his followers. He does the same extensive research for attractions, museums, cities and suburbs. Plus, he and his staff have created 28 maps tied to editorial descriptions featured in 32 city tours. It's just like your best friend were showing you the city.
Quick Tip

: Photos (below) linked to most visited pages daily
Barry

Receives
San Diego Day
The City of San Diego gave Barry a BARRY BERNDES DAY on January 14th, 2018. This award was in recognition of publisher Barry Berndes' 50-year devotion of promoting his hometown of San Diego to millions of people annually. Today over 16 million people follow him online. He also published 50 best selling guidebooks read by over 11 million people. You are in good hands with Publisher Barry Berndes because Barry Knows San Diego.
This 675-page website is what Google calls an information hub. Read it and you'll find out what makes the city tick as well as where to go and what to see at the perfect hour of the day. This isn't a city tour with sound bites. Barry has walked the streets, dined in all of the restaurants and has been everywhere he recommends you to go.
Nav Bar Top 100 Contents tab Gives Fast Content Access
The Nav Bar Top 100 Contents Page is literally a Table of Contents of the entire site with each listing being hot-linked to its category.
DINING
Having literally dined in 10,000 Restaurants in San Diego, publisher Barry Berndes knows all of the great restaurants and will recommend the best San Diego restaurants to you. He often not only recommends a great restaurant but he will also suggest a specific table offering a spectacular ocean or bay view. Being a romantic Barry is always on the lookout for spectacular views or special seating to make your excursion memorable. Check out Eat FREE on your Birthday in San Diego, and where Kids Eat Free in San Diego. His reviews are the gold standard of excellence.
Outlet Shopping Attractions
San Diego has awesome factory outlet centers, where you can literally shop till you drop! We also showcase the major shopping centers, as they are glamorous major attractions too. Outlet Shopping is one of the TOP 100 San Diego Attractions.
Coupons & More Coupons!
Enjoy major discounts for major attractions and high-end shopping. Even if they didn't offer a discount, you'd be happy to discover these real gems. No less wonderful are the host of restaurants discounts. A restaurant spot proclaimed by its patrons to be the best breakfast place in town (with 3 locations) is The Mission Restaurant offering 50% OFF any breakfast or lunch. Some restrictions apply. See the HUGE coupon section.
Coastal Attractions
Aquatic activities abound including visiting the world-famous La Jolla Shores for swimming, surfing, sunbathing and/or strolling on this picturesque beach. All are breathtaking attractions and one of the TOP 100 San Diego Attractions. Be sure to read the chapters on Ocean Beach, Pacific Beach, La Jolla, Del Mar, Solana Beach, Encinitas, Carlsbad, and Oceanside to introduce you to these fun beach towns to explore.
Calendar of Events
The HUGE constantly updated calendar of events page is a constant resource for fun things to do and attractions to discover in San Diego and regionally in Temecula's wine country and Baja, California, Mexico.
Romantic Getaway Attractions
Being visited by 36 million visitors annually, San Diego is a perfect vacation getaway. But when locals really want to get away their favorite destinations include romantic Catalina Inland, the nearby gold rush town of Julian, the desert getaway of Borrego Springs, and the wineries in Temecula. Each chapter includes personally reviewed places to stay, dine and what to do.
Mexico Getaway Attractions
Being minutes from the US/Mexican Border, a Mexico vacation getaway is a must.  Read the information-packed getaway chapters before you go of Tijuana, Rosarito Beach, Ensenada, Valle de Guadalupe, San Felipe & Mexicali, Mexico.  All getaway chapters include essential maps and personal recommendations for where to stay, what to do and where to dine.
Brewery Hopping Attractions
San Diego County is the Microbrewery Capital of the World. Thus, a fun personally-researched easy-to-navigate brewery tour of 13 must-visit breweries can be discovered by reading the Mission Valley Chapter. Included on the tour are three of the top microbreweries in America. They are Stone Brewery, Ballast Point & Coronado Brewery. Microbrewery hopping is one of the TOP 100 San Diego Attractions.
Your tour guide is local expert & Publisher Barry Berndes. He has written 50 annual San Diego guidebooks filled with 100's of tours and maps. His current online edition and social media coverage are followed by 300,000 people a week. A tour with Barry is Priceless. A couple's tour is ($200) for four hours. Contact Barry@SanDiegan.com. Headline is hot-linked to the extensive review of what you'll see and do.
Cabrillo Monument is a Must Visit
Cabrillo National Monument is one of the most visited national monument in the United States. Why? Because from this vantage point, you'll get a spectacular 360-degree view of panoramic San Diego's majestic harbor and the lay of the land for 50 miles in all directions. Thus, you'll be able to understand the layout of San Diego
Then as you meander through picturesque suburbs such as Shelter Island, Liberty Station, Ocean Beach, and historic Old Town San Diego you'll understand the lay of the land and how to get there. Reading each chapter before you go is very helpful. Equally valuable are that the circled numbers on the 28 maps.
Hot Linked Photos Give Quick Access to Attractions