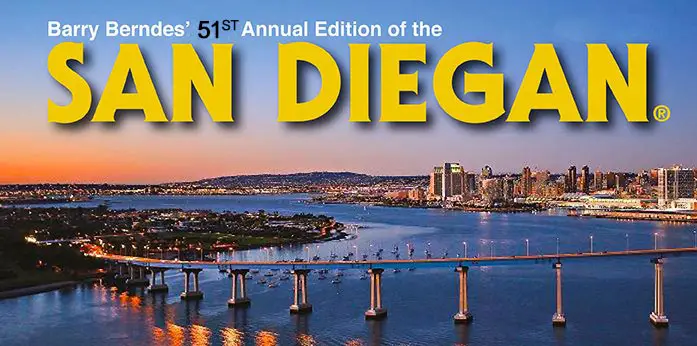 San Diego Top 500 Attractions,
Things to Do, Sightseeing maps,
Restaurants, Shopping, coupons
The Top 100 things to do Contents Page is literally a Table of Contents page of the entire SanDiegan.com website with each listing being internally-linked to its own page. Definitely access this page for an overview of this magnificent 700-page website. Another way to access fun San Diego things to do is via the two-row navigational bar at the top of each page. According to Google, SanDiegan.com is an authority site just like The New York Times.
City Gives Barry a San Diego Day
The City of San Diego gave Barry a "Barry Berndes Day" on January 14th, 2018. This award was in recognition of Barry's 50-year devotion to showing millions of people his city annually via the SAN DIEGAN and SanDiegan.com. You are in good hands with Publisher Barry Berndes because Barry Knows San Diego.
200,000 Visit Us Weekly
You're one of an impressive 11 million newcomers, visitors, and residents a year, who follow Barry's recommendations. Following the personal recommendations of the publisher, Barry Berndes is what newcomers, visitors, and residents have been doing for 52 years, because BARRY KNOWS SAN DIEGO. If he hasn't been there or it wasn't exceptionally good, then he won't recommend it! You can access Barry on SanDiegan.com, his Facebook page, Twitter, Instagram, and LinkedIn.  The SAN DIEGAN is celebrating its 52nd year.
Balboa Park is San Diego's Cultural Center and is home to 32 museums and is a must-see on your list of San Diego things to do. The SanDiegan.com offers a wonderful walking tour with an easy-to-follow map. Yet, Balboa Park is just the tip of the iceberg when it comes to discovering museums. There are military museums galore including the USS Midway aircraft carrier. Not to be missed are the many museums and walking tour of historic Old Town San Diego, where California's history began.
Here are our countywide Las Vegas-style casinos. These casinos offer top-notch gaming venues, live entertainment, and dining alternatives galore 24 hours a day. Five casinos boast luxurious hotel accommodations. Thus, you no longer have to go to Las Vegas to enjoy gaming at its best. Enjoy hotel accommodations, impressive restaurants, day spas, outlet shopping, along with performances & concerts by nationally acclaimed entertainers.
You'll enjoy the many coupons for attractions like a dinner cruise aboard a Hornblower yacht on San Diego Bay, touring the USS Midway Aircraft carrier, and the awesome high-end factory out shops. You'll be happy to discover my handpicked San Diego Things to do offering coupons based on San Diego Things to Do with Sightseeing maps and must-see attractions.
The NEW NORMAL is Curbside Takeaway and Delivery. We feature personally reviewed restaurants vs. a list of unknown places. Therefore, you know you are getting insider information for which restaurants are the best! We have always been big supporters of curbside takeaway dining. Now that dining at home has become the new NORMAL. Make it your own by adding candlelight dining, champagne, music via Pandora, and dancing.
San Diego local Barry Berndes has spent the past 50 years writing the "honest guidebook to San Diego" by dining in 10,000 restaurants, paying for his own meals, and inspecting the kitchens. He does the same extensive research for all the wonderful San Diego things to do including his map tours of cities, and suburbs. He points out things to do, from his personal experience in creating his San Diego 500 Things to Do, Sightseeing maps, attractions page. Plus, he and his staff have created colorful maps tied to editorial descriptions with map number locators featured in 48 city tours.
Having literally dined in 10,000 Restaurants in San Diego, publisher Barry Berndes knows all of the great restaurants. So he's added Eat FREE on your Birthday in San Diego, and where Kids Eat Free in San Diego. His reviews are the gold standard of excellence. Eating a FREE meal on your birthday is one of Barry's favorite San Diego things to do. Barra Barra in Old Town celebrates all birthdays for the month on the 5th day of each month. Ole!
TIP: Click on the Barry Icon to return to the home page from any page.
San Diego has awesome factory outlet centers, where you can literally shop till you drop! We also showcase the major shopping centers, as they are glamorous major San Diego things to do destinations too!. A must-see Christmas store boasting 40,000 sq. ft of sheer wonderment is City Lights. Seeing is Believing. Plus, they offer free shipping & it's tax-free for visitors.
San Diego County is the Micro-Brewery Capital of the World. Thus, a fun San Diego things to do easy-to-navigate brewery tour of the best breweries can be discovered by taking my Barry Knows San Diego Micro-Brewery Tour. Included on my San Diego Things to do brewery tour are visiting three of the top microbreweries in America. They are Stone Brewery, Ballast Point Brewery & Coronado Brewery. My San Diego map tours with San Diego attractions enable you to visit four distinctive neighborhoods.
Freeway close Temecula is a famous wine-growing region in Southern California. What put this once little-known wine-growing region on everybody's list of must-visit places was when then-President Reagan served the Queen of Englands a (second glass at her request) of Temecula's Calloway 1974 White Riesling wine. The rest, as they say, is history. While there are 40 wineries in the Temecula Valley, I have chosen 17 to visit with 4 being must-visit wineries. I also suggested superb wine country restaurants I have personally dined in and two excellent places to stay. Plus, the map is excellent! This is yet another fun San Diego things to do day trip.
The Little Arrow in the Box at the right takes you back to the top of a page.
Click on a Photo For More Fun San Diego Things to Do