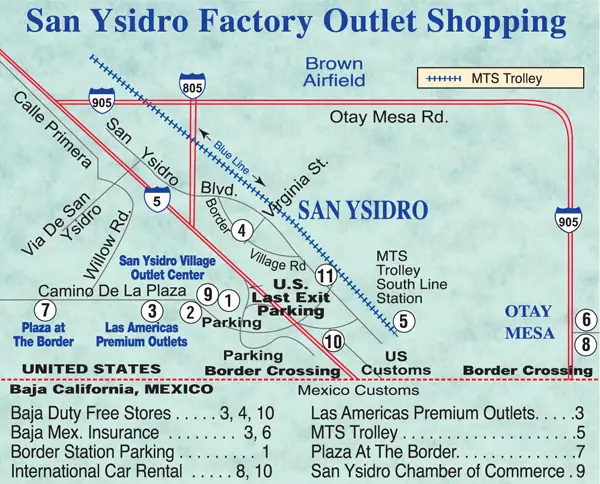 Visiting Mexico? For the best and safest place to park your car, go to Border Station Parking & Tourist Information Center (1) at 4570 Camino de la Plaza (619-428-9477). To get there take the last exit before crossing the border from the freeway. The signs are clearly marked on the freeway announcing U.S. Last Exit Parking. The sign is referring to Camino de la Plaza as the last exit before entering Mexico.
Ease into the right lane and exit here. At the end of the exit is a traffic light. Turn to the right and 20 yards later you'll be entering the Border Station Parking Lot. As you enter the parking lot, glance to your right and you will see a small building and perhaps see the shuttle bus waiting for passengers to board the bus. The entire experience is simple and smooth.
Border Station Parking does not own the bus line but has for decades offered the shuttle stop to the bus line, which results in a reliable round trip bus ride for you to take from their location to Tijuana and back. via Tourismo Express.  Thus, you don't have to run the risk of getting in an accident or finding parking in Tijuana, Mexico.
This 24-hour attended parking lot is well lit at night and has surveillance cameras for your safety. The parking rate is ($9) for ten hours Monday thru Thursday. Then on Friday and Saturday, it jumps to ($18) for ten hours. Plus, on holidays and special occasions, it's even higher. So, traveling to Mexico for the day should be Monday through Thursdays. The parking lot includes a tourist information center (619-428-6200), which is open 9 a.m.-5 p.m. daily. It's where you'll catch the round trip Turbo Express to Tijuana and back.
The good looking Tourismo Express Shuttle Bus leaves from the Border Station Parking lot on the hour from 7 a.m. offers on the hour round trips throughout the day from 7 a.m. till 5 p.m. daily.  Return buses leave Tijuana at 10 a.m. till 7 p.m.  Considering the complexity of international travel from one country to another this is an amazingly good and reliable way to get you to Tijuana and back to your securely protected car after a fun-filled day in the International city of Tijuana, Mexico dining and shopping. Be sure to bring your Passport, because, without it, you cannot enter or return to the USA.  International dining is one of my specialties. So be sure to partake in a dining adventure. Likewise, the fees are reasonable. One way fare is ($5.40) and round trip is ($10) cash.
Of course, you can walk both ways, but why do that especially since the walk from the border to the shopping districts is over a mile away. Plus, if you have purchased a lot of items to declare at the border. The bus service is the way to go. I have taken this bus service dozens of times without any incidents. I have also taken my car to Tijuana hundred of times and parked there without incidents. But the big issue is dealing with the long lines waiting for hours to cross back into the United States. It's a huge hassle you can easily avoid by taking the shuttle.
As for getting back, if you miss the 7 p.m. bus, you can take a cab to the border. If you do so, agree upon the price before getting into the cab. It will only be a few dollars. Then when you get to the border, you will have to go through customs and declare any items you purchased. Show the receipt if requested. You can bring back up to $800 worth of goods such as French Perfume and silk dresses into the U. S. duty-free.
The hassle is from the port of entry back to your car with whatever you purchased in tow is two long blocks and bridge you'll need to cross to get back to your car. You could catch a car, but you'll still have to walk a block to catch a cab to take you a block. I have done everything I am explaining to you here. So, I can attest that taking the bus definitely through the border into Mexico is a MUST and if you can get back to the bus stop in Tijuana before the last bus leaves at 7 p.m. is my best advice.
Be sure to read my extensive Tijuana Shopping and Dining Chapter with it's a very useful map. Plus, the map will come in real handy as it's smartphone friendly. Don't forget to do some duty-free shopping at the huge Las Americas Duty-FREE Outlet Stores kitty-Corner across the street from the Border Station Parking Lot.