Eat Free in San Diego on Your Birthday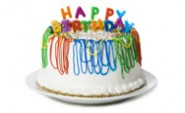 All you have to do is go online, follow their specific instructions and download their coupon. Bring the printed certificate to redeem your birthday promotion. It's that simple and it's fun!
If you would you like to have a free meal, free dessert or some special offer from dozens of San Diego Restaurants or a specialty shop like Baskin Robbins or Starbuck's Coffee, this is an offer too good to pass up.
But wait, it even gets better! Some places give you up to a month to redeem their offer. There are lots of wonderful venues to choose from for celebrating your birthday at the places listed below.
Eat Free on Your Birthday in San Diego
Applebee's – Eat free on your Birthday and receive a free dessert shooter when you sign up online
Barona Casino – Receive free Birthday offers when you become a Club Barona Member
Barra Barra Saloon & Restaurant –Eat free on the fifth day of your Birthday month (up to $14.95 value)
Baskin Robbins Ice Cream – Eat free on your Birthday and receive a free ice cream email, a special discount on a birthday cake, and a BOGO scoop offer when you sign up online


Benihana Japanese Restaurant – Eat free on your Birthday and receive a complimentary meal up to $30 (with the purchase of a full-priced adult entrée) during the month of your Birthday when you sign up online *Valid Monday – Thursday dinner hours only
Black Angus Steakhouse- Eat free on your Birthday and receive a free dessert and steak dinner (1st birthday as a Prime Club member) when you sign up online
Boathouse Restaurant – Eat free on your Birthday and receive a free prime rib dinner with a purchase of a second meal during their monthly "Birthday Night"
Boston Market – Eat free on your Birthday and receive a special treat and $3 off a purchase of $10 or more when you sign up online
Bruegger Bagels –Eat free on your Birthday and receive a free Bagel & Cream Cheese when you sign up online
Carrow's – Eat free on your Birthday and receive a free dessert when you sign up online
Chillis- Eat free on your Birthday and receive a free dessert, free chips, and a choice of salsa, guacamole, or queso (with adult entrée purchase) when you sign up online
Claim Jumper –Eat free on your Birthday and receive a free red velvet cupcake when you dine in
Cold Stone Creamery – Eat free on your Birthday and receive a 'Buy one creation, Get one creation' coupon when you sign up online
Cosmopolitan Hotel and Restaurant- Eat free on your Birthday on the 5th day of your Birthday month
Dairy Queen- Eat free on your Birthday and receive a free ice cream and a BOGO coupon when you sign up online
Daphne's – Receive free $5 in pita points on your Birthday when you sign up online
Dave And Busters – Receive a $10 game play with the purchase of a $10 game play when you sign up online *New Power Card costs $2
Del Taco – Eat free on your Birthday and receive a free Premium Shake (Choice of Vanilla, Chocolate or Strawberry) + 2 free chicken soft tacos when you sign up online
Denny's- Eat free on your Birthday and receive a free original Grand Slam (when you present your I.D) on your Birthday
Famous Dave's Barbeque – Eat free on your Birthday and receive a free welcome gift (dessert or appetizer) when you sign up online
Fuddruckers – Eat free on your Birthday and receive a free 1/3-pound burger (up to $8.00) when you sign up online

Gordon Biersch – Eat free on your Birthday and receive Birthday coupons and $10 when you register for a Passport Rewards Card
Hennessey's Tavern – Eat free on your Birthday and receive a free dinner entree *Thursday nights on the week of your Birthday
HomeTown Buffet – Eat free on your Birthday and receive a free adult dinner (with purchase of an adult dinner) when you sign up online
Islands- Eat free on your Birthday and receive a Birthday surprise when you sign up online
Jack in the Box – Eat free on your Birthday and receive 2 free tacos (with purchase) during the week of your birthday
Joe's Crab Shack – Eat free on your Birthday and receive a free appetizer when you sign up online
Krispy Kreme– Eat free on your Birthday and receive free Dozen of Donuts when you sign up online
Luc's Bistro- Eat free on your Birthday and receive a free dessert
Macaroni Grill – Eat free on your Birthday and receive a free dessert and $5 off when you sign up online
Marie Callenders – Eat free on your Birthday and receive a free slice of pie and $5 off your check when you sign up online
Mimi's Café – Eat free on your Birthday and receive a free 4-pack of Croissants or Muffins and other special offers when you sign up online
Quizno's –Receive a $2 off coupon for your Birthday when you sign up online
Red Lobster- Eat free on your Birthday and receive a free gift when you sign up online *Must join 7 days prior to Birthday to receive Birthday coupon
Red Robin – Eat free on your Birthday and receive a free gourmet burger of your choice when you sign up online
Rock Bottom – Eat free on your Birthday and receive a special gift, as well as $10 off your next visit, when you sign up online
Rubio's – Eat free on your Birthday and receive a free taco when you sign up online
Ruby's – Eat free on your Birthday and receive a Birthday surprise when you sign up online
Saska's – Eat free on your Birthday and receive a free dinner ($16 value) when you sign up online
Sammy's Woodfired Pizza –Eat free on your Birthday and receive a free pizza (with purchase of a menu item of equal or greater value) when you sign up online
Schlotzsky's Deli – Eat free on your Birthday and receive a free 'The Original Sandwich (with the purchase of chips and a 32oz drink) and get $7 off after your 7th visit when you sign up online
Starbucks – Eat free on your Birthday and receive a free Birthday drink or treat and a 15% off coupon when you register for a free Starbucks Card and sign up online
Studio Diner –Eat free on your Birthday and receive a free sundae
Tony Roma's – Receive coupons for $5 off your purchase of $20 or more and $10 off your purchase of $40 or more on your Birthday when you sign up online
KIDS EAT FREE ON THEIR BIRTHDAY
Barnes and Noble- Eat free on your Birthday and receive a free cupcake when you sign up online
FREE ADMISSION ON YOUR BIRTHDAY
 Catalina Express- Receive a free round trip to Catalina Island on your Birthday *Must make boat reservations and attend on the day of your Birthday
Medieval Times- Receive one free admission (for each full priced adult admission) during the month of your Birthday when you sign up online
DISCOUNTS FOR APPAREL & TOYS ON YOUR BIRTHDAY
American Eagle Outfitters- Receive 15% off the month of your Birthday at AE or Aerie when you share your email and sign up online
Anthropologie- Receive a 15% off coupon for your Birthday when you sign up online *Must join Anthro 30 days prior to Birthday
DSW Shoe Warehouse –Receive a $5 off coupon for your Birthday when you sign up online
Loehmann's- Receive a 20% off (first purchase) coupon for your Birthday when you sign up online
Sephora – Receive either: Two lip colors (matte red and rose) for Her OR cucumber mask and face wash for Him on your Birthday when you sign up for Beauty Insider
Toys R Us – Receive a free Birthday email and gift (10 and under) when you sign up online
Current as of April 19, 2015