Eat Free in San Diego on Your Birthday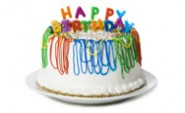 All you have to do is go online, follow their specific instructions and download their coupon. Bring the printed certificate to redeem your birthday promotion. It's that simple and it's fun!
If you would you like to have a free meal, free dessert or some special offer from dozens of San Diego Restaurants or a specialty shop like Baskin Robbins or Starbuck's Coffee, this is an offer too good to pass up.
But wait, it even gets better! Some places give you up to a month to redeem their offer. There are lots of wonderful venues to choose from for celebrating your birthday at the places listed below.
Eat Free on Your Birthday in San Diego
Barona Casino – $5 free MyRewards slot play during Birthday month for Club Barona Members.
Barra Barra Saloon & Restaurant – Eat Free on the fifth day of your birthday month (up to $12 value).
Baskin Robbins Ice Cream – Free ice cream email on your birthday, sign up online.

Benihana Japanese Restaurant – complimentary meal up to $30 (sign up for The Chef's Table club).
Boathouse Restaurant – check their web site for "birthday night" for all the birthdays that month with a free prime rib dinner with "any" purchase of a second meal.
Boston Market – $3 off $6 coupon for signing up online.
Bruegger Bagels – FREE Birthday Bagel & Cream Cheese
Carrow's – Free dessert; plus another free dessert for signing up online.
Chevy's – Free entrée
City Wok – a free entrée; plus get a free order of your choice up to $8 for signing up online.
Claim Jumper – complimentary Small Bite Dessert for signing up. Does not include Brulee Flight.
Cold Stone Creamery – Free Like It Create Your Own Creation (ice cream + 1 mix-in) served in a cup
Daphne's – $5 in pita points
Dave And Busters – $10 game play for signing up (new Power Card costs $2)
Del Taco – Free Premium Shake (Choice of Vanilla, Chocolate or Strawberry) + 2 free chicken soft tacos for signing up
Famous Dave's Barbeque – free welcome gift for signing up (usually a dessert or appetizer, but varies according to the "secret" code on the coupon)
Fiddler's Green – Free Brownie Sundae.
Fuddruckers – Free 1/3 pound burger up to $8.00

Gordon Biersch – free entrée with purchase of an entrée of equal or greater value
Hennessey's Tavern – free dinner entree the Thursday of the week of your birthday
HomeTown Buffet – buy 1 adult buffet, get one free. Sign up online.
Jack in the Box – free dessert @ participating locations (this one is good on your actual birthday only)
Joe's Crab Shack – Free cake, sign up online
Krispy Kreme – Free birthday donut
La Pinata- Free entree for mother with purchase of an entree.
Macaroni Grill – Free piece of chocolate cake, sign up online.
Marie Callenders – FREE slice of pie and $5 off your check, sign up online.
Mimi's Café – $10 off $20, plus free breakfast entrée for registering. Tip: place an additional order online (you can even order a 99-cent muffin) and get a coupon for a free starter.
Quizno's – free cookie with online signup.
Red Robin – Free gourmet burger of your choice on your birthday.
Rock Bottom – Free appetizer for Mug Club members.
Rubio's – free meal up to $7, sign up online.
Ruby's – free sundae, sign up online
Saska's – Free birthday dinner when you sign up for their e-club.
Sammy's Woodfired Pizza – free Messy Sundae; free pizza with purchase of a menu item of equal or greater value for signing up online.
Schlotzsky's Deli – Free small The Original sandwich, when signing up online.
Starbucks – register a free Starbucks Card and get a free birthday handcrafted beverage of your choice
Studio Diner – receive a free Birthday sundae
Sunrise Buffet - Eat free with 6 paying adults
Tony Roma's – Free entrée (plus get a free dessert when you sign up online).
FREE ADMISSION ON YOUR BIRTHDAY
Disneyland – free admission on your birthday.
DISCOUNTS FOR APPAREL & TOYS ON YOUR BIRTHDAY
DSW Shoe Warehouse – $5 off birthday coupon, plus 500 points for signing up
Loehmann's- 15% off birthday discount
Sephora – Sephora Collection lip gloss trio (for her) or Anthony Logistics Body Gel for Men (when you sign up for Beauty Insider)
Toys R Us – Free birthday email and gift for children 10 and under
Current as of July 18, 2013