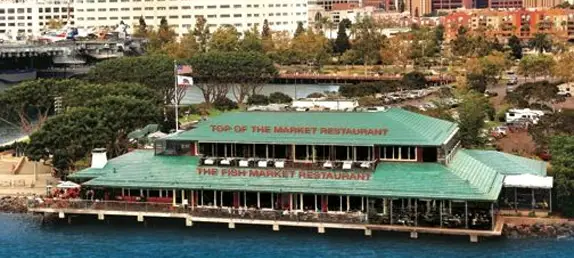 The Top of the Market with its breathtaking San Diego harbor views is one of our city's top San Diego Restaurants. Executive Chef Michael McDonald was named Chef of the Year for 2011 at the Gold Medallion Awards by the San Diego Restaurant Association. Every aspect of this restaurant is first class from the white linen tablecloths to the professional wait staff exude with excellence. And the seafood selection comes from throughout the world daily.
But their top of the line excellence goes even farther. There is not just one restaurant here, there are two of them, one on top of the other. The Restaurant on the first floor is The Fish Market Restaurant. These two award winning bayfront restaurants with awesome views serve the freshest and finest seafood available.
The menu features seasonal offerings that may include delights such as seared se scallops with celery root puree, poached orangic egg and dijon vinaigrette, as well as curried local mussels and shrimp.
Am appetizing main course is the Maine lobster tail with fresh white truffle emulsion and roaster fingerling potatoes. The fresh Alaskan halibut with grilled polenta, local vine ripened tomatoes, hedgehog mushrooms and pea tendrils are equally recommended.
A great standard, which is always wonderful, is the Dungeness Crab Cioppino, featuring a medley of fish, bay scallops, shellfish, calamari and prawns simmered in a rich marinara sauce.
They offer a number of mouthwatering, non-seafood entrees as well. A perfect conclusion to any meal are their wonderful house made desserts.
Dine here tonight! Their enclosed patio offers views that are unrivaled anywhere on the San Diego Bay.
Banquets at Top of the Market
Top of the Market
750 N. Harbor Dr.
Call: (619-234-4867)
Price: $10-$45/pp
Downtown San Diego, CA 92101
The Fish Market is a great place to hold your next banquet or event. It has breathtaking bay views and San Diego's top selection of fresh seafood. You won't find a better place on the water or to impress your guests and make a memorable occasion.