This casual dining destination is a favorite for locals, especially yachtsmen on Shelter Island. And it's popularity is growing as the word gets out. Big and delicious are the two thoughts that come to mind when you take the first bite of one of their many omelets. A real crowd pleaser is their Italian breakfast! The taste is gourmet. It is made with tiny sausages, artichoke hearts, fresh tomato, cream pesto and smoked gouda cheese.
Another favorite are their buttermilk pancakes with lots of creamy butter and your favorite syrup. No less popular is their delicious blue crab meat eggs Benedict with scallions. It's topped with a sensational hollandaise sauce and paprika. It's nothing short of heavenly. This is a great spot for breakfast or lunch, however they are also open for dinner now too.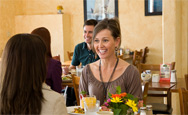 Just as spectacular are their luncheon selections, like their burgers, which come with french fries, a dill pickle and a fruit garnish. Their burgers are served open faced with fresh lettuce tomato and onion.
They have good salads too! For dinner you should try the grilled salmon with steamed vegetables. Also popular is the rib eye blues, which is a tender steak topped with savory gorgonzola cheese mushrooms and a spinach saute, add a Caesar salad for ($3).
There are a whole lot of good reasons to like dining at Point Break. Since it's located on romantic Shelter Island Drive, a stroll or a drive past the moored yachts on San Diego Bay can be a memorable conclusion to a delicious meal.