The finest cuisine of India is beautifully presented in an upscale atmosphere with attentive servers, subdued lighting and a bubbling fountain. If you aren't sure what to order, simply ask your server for assistance.
Located between F and G streets and open for lunch daily 11 a.m.-3 p.m. featuring an all-you-can-eat buffet ($11.95); dinner ($15-$35) Sun.-Thurs., 11 a.m.-11 p.m.; Fri.-Sat., 11 a.m.-midnight. Mon. night all-you-can-eat buffet ($15.95).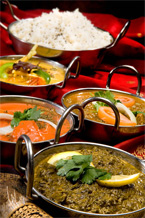 If you decide to order on your own and you like bananas, order the Dizzy Noo Shak. It's an incredible-tasting entree that is gourmet in the true sense of the word. The bananas are stuffed with Indian spices and sauteed with cumin and mustard seeds. Then it's served on a bed of white rice. Ahh! It's a meal to remember.
Also impressive is the lamb vindaloo. It consists of a combination of baby potatoes with fresh herbs and spices cooked with marinated lamb and a touch of vinegar. For a total Indian dining experience from appetizer to dessert, order the Monsoon thali. This meal is served with naan (Indian bread), papadum (lentil cracker), rice, dhal (lentil soup) and sag (curry-based spinach cooked with spices) with your choice of chicken, lamb, fish or a vegetarian entree.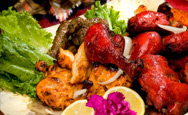 It's served with a mango mousse dessert and savory Indian tea called chai tea. This is a perfect place to dine with business associates, friends and family.
They also specialize in catering for events or any special occasion. Monsoon welcomes banquets, with a spacious dining room featuring stunning paintings of India. It is the glorious food for vegetarians and meat-lovers alike that make Chef Jagu so popular.