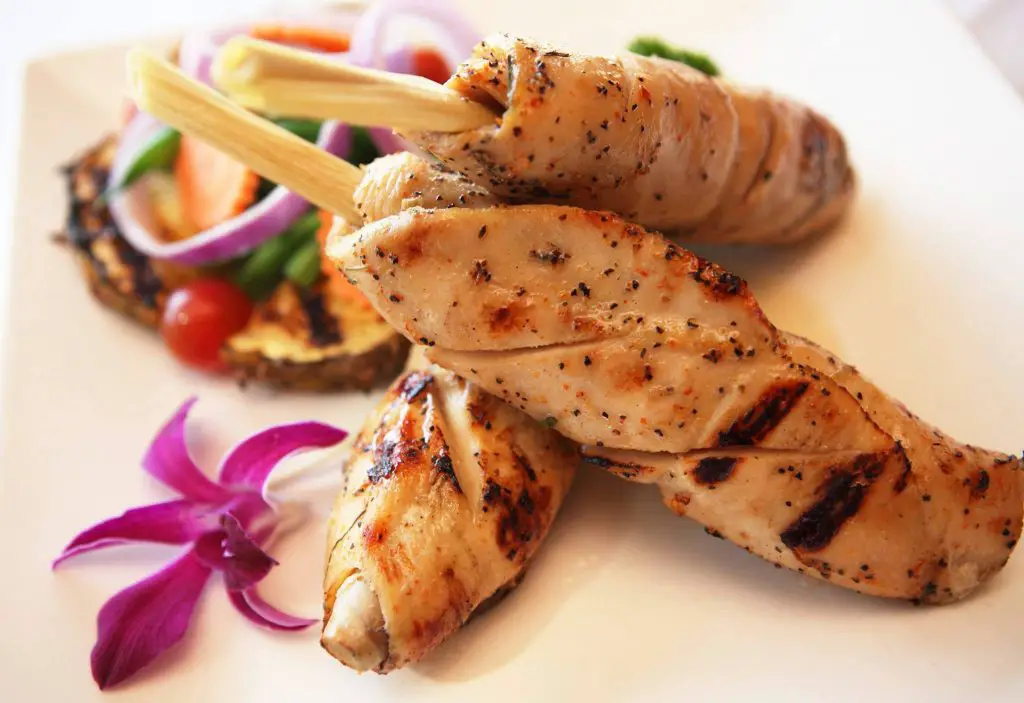 Lotus Thai, 906 Market St. (619-595-0115) [lotusthaisd.com]. Open Mon.–Thurs. 11 a.m.–3 p.m. for lunch featuring their savory Lunch Specials ($8.95–12.95) and dinner 5 p.m.–10 p.m. Mon.–Thurs., Fri. till 11 p.m.; Sat. noon – 11 p.m. and Sun. noon till 10 p.m. ($8.95–$25.95). Lots of memorable vegetarian entrees. Happy Hour Daily. Student discounts.
For the best tasting Thai cuisine in downtown San Diego, all roads lead to 9th and Market Street. It's literally minutes from the convention center and Petco Ball Park. So it's where downtown residents and businessmen as well as visitors and conventioneers eat. Diners come here to enjoy the tantalizing cuisine served in a tranquil setting with great views of bustling downtown from every seat. What to order is a challenge as the menu is extensive and complete. Luckily their knowledgeable servers dressed in black attire will gladly assist you.
Easy to recommend is the lemon grass chicken, green curry and spicy drunken noodle, which as a spicy pan-friend noodle and bell pepper dish with diced tomatoes and carrots tossed together a sweet and tangy chili sauce. Curry lovers will be tantalized with their exotic selections, as well. All meals include a bowl of warm rice a small bowl of refreshing soup. A great conclusion to a memorable meals is one of their delicious desserts such as their savory coconut ice cream. Delivery placed online (619-821-8182). Full bar. including Thai beer. Catering. Credit cards: AE, MC, VISA.
Lotus Thai in Hillcrest
Lotus Thai's Hillcrest location is at, 3761 6th. Ave. (619-299-8272) [lotusthaisd.com]. Open Mon.–Thurs. 11 a.m.–3 p.m. for lunch featuring their Bento Lunch Specials ($6.95–11.95) and dinner 5 p.m.–11 p.m.; Sat. noon – 11 p.m. and Sun. noon till 1 p.m. ($7.95–$19.95). Happy Hour daily 5 p.m.–-7 p.m. featuring a special ($5) appetizer menu excluding holidays!
What's not to love about this award winning Thai restaurant, which has been acclaimed the best of the best by restaurant reviewers and diners alike! You'll be greeted with the relaxing sounds of a bubbling fountain and tranquil music from the orient. As you slide into a comfortable black booth or table and glance around you'll undoubtedly notice the black whirling ceiling fans, and the eye catching oriental ceiling panels depicting an ornate sea serpent. The walls are also accented with flowering objects of art. Here in this tranquil setting one memorable entree after another is served by attentive black clad servers. You won't be disappointed.
Highly recommended as perhaps the the best salmon entree you will say you have ever tasted is the Sunset Salmon ($18.95). This refreshing entree is a lightly seasoned pan fried salmon topped with a tropical green apple salad and cashew nuts. Another winner is the Treasures from the Sea ($19.95). It's served on a large platter filled with shrimp, scallops, mussels and squid, which has been stir-friend with tantalizing onions, diced carrots, bell peppers, red chili paste with kiffir, live leaves, lemongrass and fresh basil served on a sizzling platter.
Save room for a delicious dessert be it their tantalizing coconut ice cream or mango ice cream with 4 mini banana crepes. It's delicious! Full bar. Banquets. Catering. Credit cards: AE, MC, VISA.