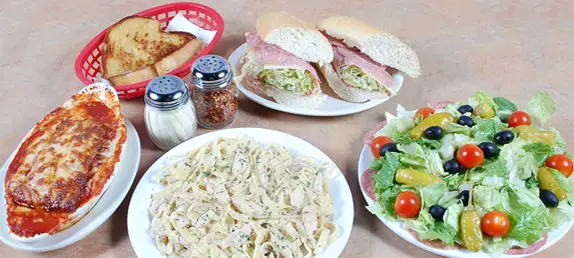 La Bella Cafe & Games (8) is the most popular pizza restaurant in Chula Vista. Boasting 58 years in business, they truly have it all including a huge games parlor. Yet, the games are just the latest attraction to go along with entertaining the hundreds of families who dine here everyday.
Without a doubt, the biggest attraction is their pizza and wide assortment of Italian entrees. Just ask anyone and they'll tell you that they have the best pizza in Chula Vista and the South Bay.
Their game parlor, which is celebrating six years of success now brings lots of happy diners back again and again. It's filled with every game you can imagine including X-Box games, pinball machines, pool tables, dart boards and more.
So before, during or after you play to your heart's content, order yourself one of their delicious pizzas. Highly recommended is Papa's Favorite. This incredible pizza is overflowing with pepperoni, sausage and mushrooms and smothered with melted cheese. Their pastas are just as tasty and are big enough to share.
The sourdough garlic bread and refreshing salads are great additions to any entrée. They also have beer and wine and sensational desserts like gelato and cheesecake.
So get something tasty to eat before you get lost in the maze of games galore. Games cost (50¢–$1) and you don't even need quarters. Just fill your Eat, Drink and Play Card and play until it's time to cash in the points at the prize counter.
So grab your friends and head for La Bella Cafe & Games for delicious pizza and Italian food and you'll always have a great time!
Banquets & Catering at La Bella Cafe & Games
La Bella Cafe & Games
373 Third Ave.
Call: (619-426-8820)
Price: Call for pricing
Size: Call for Availability
La Bella Cafe is ideal for parties and events with children or catering your next event with great pizza and Italian cuisine.