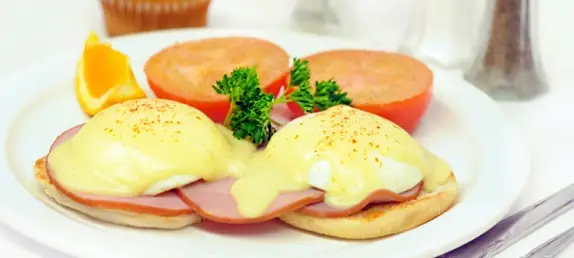 Since 1944 this famous neighborhood restaurant (5) has been serving the best-tasting food at down-to-earth-prices with excellent service. It's no wonder that they have received the highest acclaim locally, regionally and nationally from Gourmet Magazine and most recently The Food Network's popular show Diners, Dive-ins and Dives hosted by famous chef Guy Fieri.
With a solid reputation for excellent service and delicious homecooked meals just like your Mom used to make, you can't go wrong. Plus, they try to out-do themselves by offering daily lunch and dinner specials, which are real show stoppers. A dinner special offered every Sunday evening is their mouthwatering roast leg of lamb served with a savory sage dressing and tangy mint jelly. No less impressive are their house favorites such as a memorable smoked center cut pork chop, the baby beef liver with your choice of grilled onions or bacon, old fashioned chicken 'n dumplings, roast tom turkey with all of the fixins and an always delicious fresh catch of the day. Plus, each meal comes with your choice of soup du jour, green salad, Caesar salad, fresh spinach, Waldorf salad, fiesta salad or marinated bean salad. Your meal also includes your choice of potato, vegetable or warm apple sauce and homemade bread baked fresh daily. Definitely save room for their freshly baked cakes and pastries.
Catering at Hob Nob Hill
Hob Nob Hill
2271 First Avenue
Call: (619-239-8176)
Price: Call for pricing
Downtown San Diego, CA 92101
Size: Call for Availability
Their delicious pastries, bread and meals are always conveniently packaged for take out and are perfect for catering your next event.