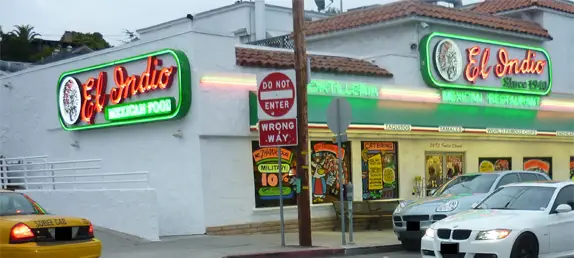 El Indio Mexican Restaurant is the winner of the California Restaurant Association's Gold Medallion Award for Best Casual Mexican Restaurant and was recently featured on the Travel Channel's Mexican Food Paradise and also on the Food Network's Diners, Drive-ins and Dives. This San Diego legend, which is celebrating over 70 years in business, is so popular that customers literally line up at the door for the great Mexican food at affordable prices.
The tortilla chips are so famous that they are shipped throughout the United States. Try any of the 30 combination plates served with rice, beans and fresh chips. Founder Ralph Pesqueira, Sr., coined the word "taquito" for his rolled tacos and these rolled tacos are the best in town.
El Indio also has a fantastic deli, which showcases everything you'd need for a home-cooked meal, with tamales, enchiladas and chiles rellenos ready to heat and serve with rice and beans. Vegetarian food available too!
Today, El Indio is well-known around the world, having provided care packages to our soldiers while fighting in Vietnam and Desert Storm. Over the years many local politicians in Congress have requested these "El Indio Care Packages" to be sent to Washington D.C.
Even a couple of our Presidents have had occasion to sample El Indio food while in the White House. Pete Wilson, former Mayor of San Diego, had many opportunities to enjoy El Indio food, they even catered his first inauguration as Governor of California.
They offer 10 percent off to police, fire and active duty military personnel. Catering (619-299-0385) for all occasions including weddings, corporate affairs and picnics. Ask for Martha (certified wedding consultant).

Be sure to download their coupon for 10% Off your next catering order!
Catering at El Indio Mexican Restaurant
El Indio Mexican Restaurant
3695 India St.
Call: (619-299-0385)
Price: ($8.95-19.99/person)
El Indio Mexican Restaurant is a popular San Diego restaurant since 1940, provides authentic Sonora style Mexican cuisine for El Indio Catering. El Indio Catering provides world class professional catering services to San Diego. Let them help you plan your wedding, banquet, birthday or gathering. Their staff will even assist you in planning every detail. Rental chairs, tables, linens, entertainment, bar tenders, spirits and servers are available. Transform your home, picnic area, board room, or just about anywhere into an elegant dining experience. We will make every effort to create an atmosphere of festive celebration.