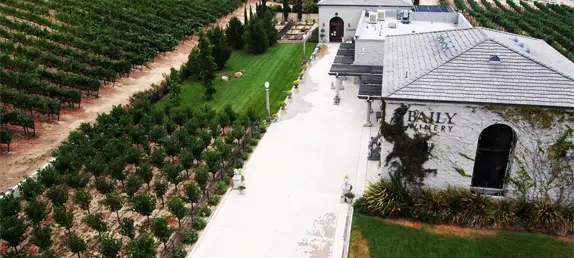 Carol's Restaurant is perfectly situated in a high-ceiling room dominated by a huge fireplace, the restaurant seems to be of another, perhaps medieval, time. Ask for seating inside next to the fireplace or on their delightful terrace overlooking their Cabernet Sauvignon vineyard. Their patio is covered by a pergola and nestled between the restaurant and the Cabernet vines provide a great place for al fresco dining when weather permits, which is most of the time.
They are open for lunch only, Thursday and Saturday, 11:30am to 3pm, Saturday 11:30am to 3pm, 3pm-5pm appetizers and drinks, 5-8:30 dinner.
Carol's has a selection of luncheon salads, sandwiches, grilled fish and steak, and pasta dishes. Their impressive wine list features Baily and other Temecula Valley wines, as well as a handful from outside the Valley.
The restaurant offers Mediterranean cuisine and daily specials. Live music is performed every Saturday for lunch and dinner and offers a private party room for 24 to 48 people. The restaurant is available for large private parties from 40 to 70 people every night except Saturday. See website for details and pricing.

Banquets at Carol's at Baily Winery
Carol's at Baily Winery
Rancho California Road at La Serena Way
Call: (951-676-9463)
Price: $100 deposit to reserve
$20/pp
Size: Banquets 24 to 42 people
A tastefully decorated private room is available for luncheons for parties of 24 to 48. The room is also available for civic group and business meetings, with lunch and coffee service.Call Chuck at 951-676-9463 between 11:00 and 5:00, Monday through Friday and he will put you in touch with Carol to schedule a date and work out the details. See Buffet Menu below.