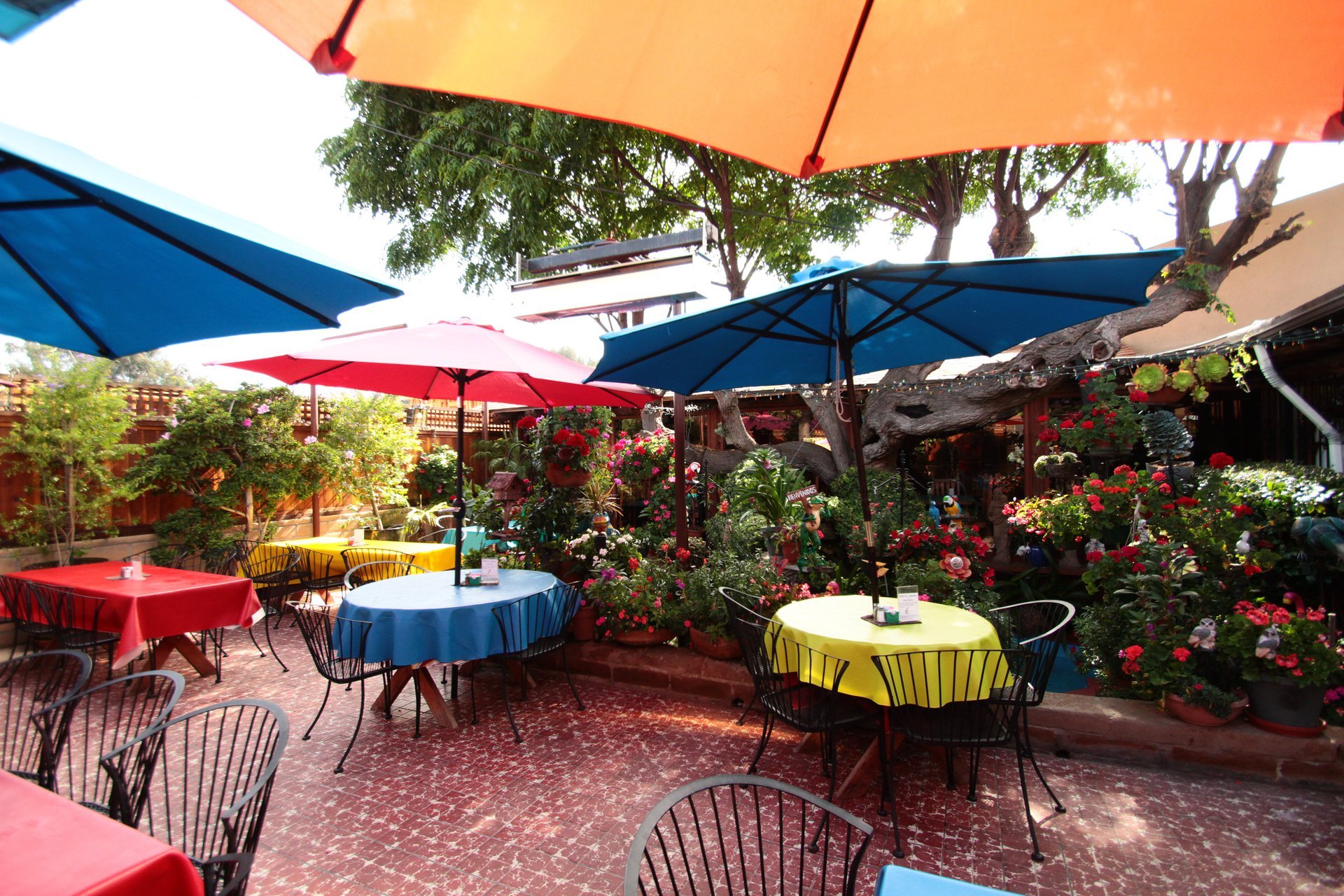 Tony's Jacal (5), 621 Valley Ave. (Eden Gardens), Solana Beach (858-755-2274), Open for lunch Mon.-Sat., 11 a.m. -2 p.m. ($13.50-$17.25); dinner weekdays 5 p.m. to 9:30 p.m., Fri.-Sat. 5 p.m. – 10 p.m.; Sun. 3 p.m. to 9 p.m.; Closed Tuesdays except during Racing Season. Aficionados of Mexican restaurants know that Eden Gardens is the place in North County where the oldest and best  Mexican Restaurants are located. Tony's Jacal has been in business since 1946. Thus, Tony's Jacal is the oldest Mexican Restaurant in San Diego's North County. This is reason enough to dine here often. Thus Tony's Jacal has gained a loyal following that rivals all others,  no wonder that Tony's Jacal is a very special place.
Book a banquet or catering for any special occasion. 
Map
Housed in a stunning Adobe inspired building is part of the charm of Tony Jacal's lies in the comfortable atmosphere, with its high beamed ceiling and arched stained glass windows. The cozy booths, low lights , and inviting outdoor patio add to the mystique. Yet, it is the authentic-tasting Mexican dishes and seafood entries that get the greatest acclaim. House specialties include Carne Asada, turkey, beef or fish tacos, Carnitas, Chiles Rellenos and the fantastic Tostadas. Try their seafood Enchilada or Quesadilla, or shrimp with green Chiles for the bold palates. For dessert, treat yourself to an order of Sopapillas, a delicious puffy pastry dribbled with honey. Adjoining the cozy dining room is a lively cocktail lounge.
History of Tony's Jacal
It was immediately after World War II in 1946 that Tony and Catalina Gonzales decided to open a restaurant on the present site. Tony had just returned from military service and Catalina, who had contented herself with staying at home while Tony was away, persuaded him to allow her to open a Mexican restaurant right in his parents' home. Open at first only on weekends, the modest establishment could seat just 26 persons. Catalina did the cooking and Tony helped serve. Soon the word about their chiles rellenos, turkey tacos and other tasty food spread throughout the area and even as far north as Los Angeles. Travelers and local residents would line up outside for long periods of time as they waited to be served.
Soon the Gonzaleses realized that they would have to extend their business days to accommodate the hungry diners. Tony's Jacal, or "old building," was enlarged several times during the intervening years and the present six-day week was established. Now the restaurant is open every day but Tuesday.
Traditional Mexican dishes are prepared with mild or hot seasonings to please the discriminating palate. The menu also includes some American entrees.The Gonzales family is proud of their cuisine and the years of devoted service they have given their customers, many of whom return regularly, and with good reason. Full bar is available. Take out.
Banquets. Catering
. Free parking. Credit cards, AE, MC, VISA

Book an Event