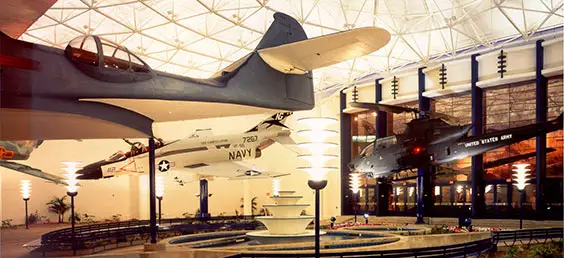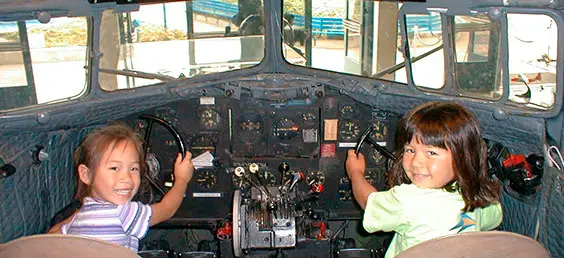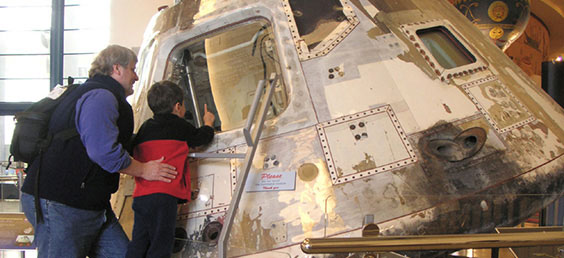 San Diego Air and Space Museum (619-234-8291) [sandiegoairandspace.org] is in the historic Ford Building in Balboa Park. This impressive museum displays famous aircrafts, engines, spacecraft and aviation artifacts from the dawn of aviation through the space age.
The museum's blockbuster exhibit is "Be The Astronaut". You'll have to pay an extra ($5) to see this special touring exhibit, but it's well worth it! The museum is open daily 10 a.m.–4:30 p.m. with the last admission at 4:30 p.m. Closed Thanksgiving and Christmas Day. Admission to the museum is only ($19.75) for adults 12 and over; ($16.75) for seniors, students and retired military with ID; ($10.75) youth ages 3–11; children under 2 are admitted FREE! Make sure to use their coupon for $4 OFF adult admission! Credit cards: AE, MC, VISA.
Be a Part of History at the San Diego Air & Space Museum
History takes flight at the San Diego Air and Space Museum. Aviation history is truly a remarkable story, and it all unfolds at the San Diego Air & Space Museum in beautiful Balboa Park. Your journey through the evolution of flight begins as you enter the museum beneath two iconic aircraft, an A-12 Blackbird, an early version of what would become the fastest plane in the world, and a Convair Sea Dart, the world's first supersonic seaplane.
The museum's rotunda is packed with noteworthy air and spacecraft, including an airworthy replica of the Charles Lindbergh's "Spirit of St. Louis" which he used to make the first solo flight across the Atlantic Ocean in 1927. Stand inches from the actual Apollo 9 Command Module nicknamed "Gumdrop" and a replica of the Bell X-1, the first plane to fly faster than the speed of sound in level flight. The museum also is home to the largest collection of moon rocks west of the Mississippi, and is California's official Air and Space Museum and Education Center.
Take a Journey Through Time
The museum's first gallery is dedicated to early flight, where you will stand beneath a model of the Montgolfier brothers' hot air balloon of 1783–the first manned vehicle to ever break the bonds of gravity and lift humans above the Earth.
Rare specimens of aircraft recreate the excitement of air combat in the museum's popular World War I Gallery, which includes examples of planes from Great Britain, France, Germany and the United States.
Guests marvel at the entertaining and dangerous antics of the barnstormers of the 1920s and the air racers of the 1930s– including an iconic Gee Bee R-1–in the Golden Age of Flight Gallery.
The World War II Gallery includes some of the most recognizable war planes in the world, including: a Supermarine Spitfire Mk. XVI; Messerchmitt Bf 109G; Navy F6F Grumman Hellcat; North American P-51D Mustang; Chance Vought F4U Corsair; Douglas SBD-4 Dauntless dive bomber; and Mitsubishi Zero.
In the Modern Jet & Space Age Gallery you will get up close and personal with an A-4 Skyhawk jet, a McDonnell Douglas F-4J/S Phantom II, and an F/A-18 A Hornet "Blue Angel 1." These beautifully preserved airplanes help visitors appreciate the increasingly complex technology represented in the classic military aircraft of Korea and Vietnam.
The museum's evolving display of space age technology–including expert mock ups of spacecraft from the Mercury and Gemini programs–may never be finished for it represents an adventure which the human race has truly just begun.
Meet Important Figures of Aviation History
During your journey through time, you'll meet more than 200 luminaries from the history of aviation and space exploration in the world class International Air & Space Hall of Fame exhibit that weaves throughout the museum as it continues to grow with deserving new inductees each year.
And don't forget to visit the one-of-a-kind American Women of Flight exhibit featuring some of the most famous women in aviation history, including aviatrix Jacqueline Cochran, Bessie Coleman– America's first licensed female African-American pilot–astronaut Sally Ride, and the incomparable Amelia Earhart.
All-ages Food & Fun
You can also experience the new 3D/4D Zable Theater which is the first of its kind in Balboa Park! The theater uses advanced 3D technologies employing interactive seats and unique special effects to give a multi-sensory experience the whole family will enjoy.
There are several new additions which make a visit to the San Diego Air & Space Museum even more fun. Open select days from 11am-3:30pm, is the Flight Path Grill ($.50-$8, which offers hungry museum visitors great cheeseburgers, sandwiches, pizzas and a tasty Caesar salad with beverages. They even have specials and if you go online you can download a coupon for a free cookie with a combo purchase. Check online for the daily schedule.
Visiting the museum just got a lot more fun with the new Kids Aviation Action Hangar. This "kids only" area has an abundance of attractions for kids of all ages from preschoolers with coloring books and magnetic toys to a flight simulator experience for the older kids in a real wind tunnel. A visit to the Kids Aviation Action Hangar is included in the price of admission.
But wait, there's more! Soar through the skies in the 360 degree full motion flight simulator. They do sky loops and screaming dives as well as aerial combat turns. This is the ride every dare devil will want to ride. But you must be at least 44 inches in height to climb aboard.
Banquets & Weddings at San Diego Air & Space Museum
San Diego Air & Space Museum
In the Ford Building
Call: 619-234-8291x117
Price: Call for pricing
Balboa Park, San Diego, CA 92101
Size: 700 seated, 1,500 standing
Banquets and special occasions including reunions, weddings and conventions are unforgettable under their canopy of historical aircraft. Contact Cassandra Smith and Melissa Paris (619-234-8291 x117).