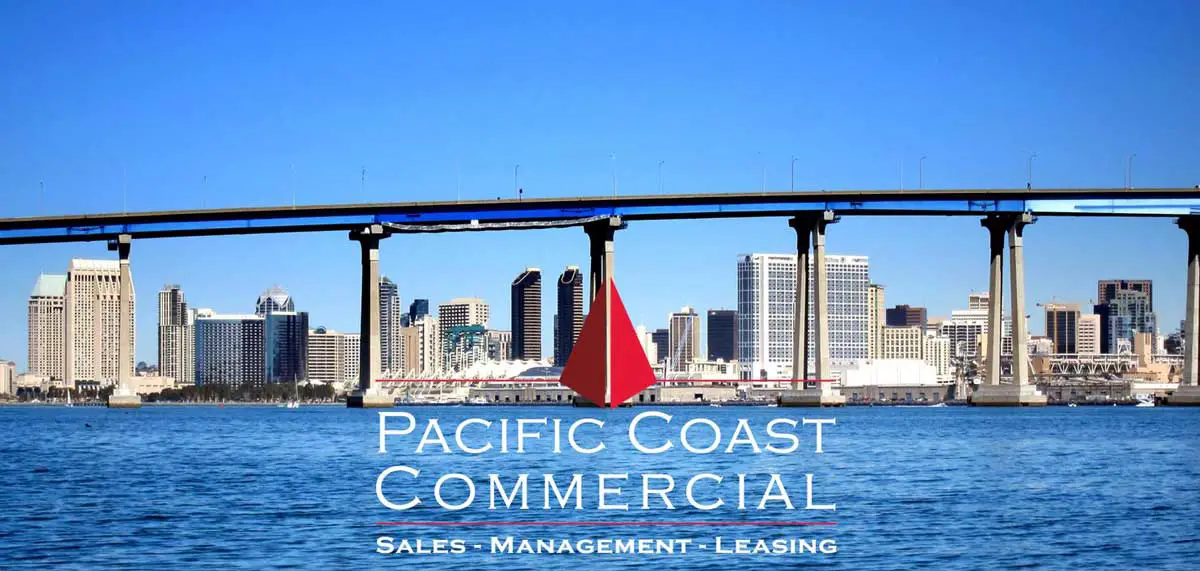 Pacific Coast Commercial is one of San Diego's leading providers of commercial real estate brokerage and property management. Currently representing over 5 million square feet under property management including over 1,000 tenants. Year in and year out, they deliver sound advice and performance for their clients. Pacific Coast knows their clients deserve the best and they deliver it.
Through their day to day interaction in the commercial real estate marketplace, they have developed experience and knowledge which gives them a unique ability to advise and represent their diverse clients. This market knowledge gives them an edge on their competition, whether it's buying, selling, leasing or in the daily management of their assets. The dedicated professionals at Pacific Coast Commercial pride themselves on providing quick, quality, and ethical service in all they undertake.
Pacific Coast Commercial offers you highly specialized brokers who are committed to bringing you individualized service, local market expertise, and regional opportunities to lease-up, or sell your real estate assets throughout San Diego County.
Commercial Properties Include:
New property types:
• Hospitality
• Automotive
• Self-Storage
• Multi-Family
• Land Development
• Office / Medical Office
• Industrial & Warehouse
• Business & Franchise Sales
• Nationwide & Institutional Investments
Property Owner Representation
From market analysis to the signed lease, we will represent your property with aggressive and creative marketing techniques. Pacific Coast Commercial's approach is to structure transactions so as to maximize profitability while maintaining the greatest level of flexibility.
Investment Sales
Our investment specialists will assist you in the purchase or sale of commercial income properties throughout San Diego County as well as the Country. Whatever the requirement, from a single purchase to the sale or purchase of multiple buildings, Pacific Coast Commercial understands the meaning of "buy low and sell high".
Commercial Leasing
Whether it's office, industrial, or retail, Pacific Coast Commercial has you covered. Our respected teams of professionals are equipped to handle any size transaction using sophisticated negotiating strategies, in-depth research, and demographic analysis.
Tenant Representation
Using state of the art technology and street market knowledge, we will find Tenants for your property under the right terms and conditions.
Our breadth of property management experience allows us to manage virtually any property size, type or portfolio of properties. We realize that you have a choice when it comes to property management, so our services are professional, courteous, responsive, flexible, modern, and tailored to meet your property management needs.
Property Types Managed Include:
• Industrial / Warehouse
• Office / Medical Office
• Retail
• Self Storage
• Commercial Condo Associations
• Multi-Family
• Automotive
• Contractor & Storage Yards
Property Management Services
• 24-Hour Emergency Response Times
• Master Policy Insurance Coverage
• Comprehensive Monthly Financial Reports
• Complete Admin. of Common Area Accounting (Budgeting, Collections, Reconciliation)
• Specific weekly, Monthly, Annual Property Inspections
• Detailed Monthly Property Condition Reports
• Long Range Financial and Maintenance Planning
• Collection of Rents / Payment of Bills
• Pursuit of Delinquencies
• Lease Administration (Insurance Certificates, Rent Increases, Options, etc.)
• Regular Price and Service Comparison of Vendor Services
• Focus on Tenant Retention
• Tenant Improvement Coordination and Supervision