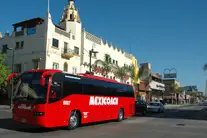 Taking Tourismo Express formerly Mexicoach to Tijuana makes crossing the international border more relaxed and convenient. No more waiting in long lines and no more costly auto insurance. It's the easiest and safest way to go to and come back from Tijuana, Mexico.
Tourismo Express formerly Mexicoach runs daily express buses from San Ysidro to downtown Tijuana 7 a.m.-6 p.m. These departures are from Border Station Parking in San Ysidro every hour on the hour and until 6 p.m. The fare is ($10) each way.
The buses are clean and well maintained and the drivers are friendly.
Don't forget that American citizens need a valid U.S. passport to enter and leave Mexico. If you are 21 years or older you can bring back one quart of liquor duty-free. Victor and Sons Liquor (10) at 1020 Ave. Revolucion in downtown Tijuana has the best selection.
Tourismo Express also takes people to the new airport border crossing CBX for a fee of ($10) each way. Until the city of San Diego builds a bigger parking lot, the best way to avoid getting a ticket for parking too long on the street near the terminal and getting your car towed away and having to pay a huge fee to get it back is to opt for a shuttle service. Tourismo Express makes multiple stops at CBX, The Tijuana Airport Terminal — in San Diego Daily.
San Ysidro is home to the world's busiest land border crossing, where U.S. Interstate 5 crosses into Mexico at Tijuana. Each year over 14 million vehicles and 40 million people enter the U.S. at the San Ysidro port of entry.
The great majority of these are workers (both of Mexican and U.S. nationality) commuting from Tijuana to jobs in the greater San Diego area and throughout southern California. There is also a thriving reverse traffic, both of workers traveling to maquiladoras in Mexico and those purchasing services (vehicle repairs, hair and beauty services, childcare, medical and dental) or seeking entertainment in Tijuana.
Crossing times are notoriously slow at San Ysidro, particularly for those entering the U.S. in cars. For this reason many cross on foot, which is frequently much faster than the vehicle lane. Some pedestrian travelers own a car in each country, and store them in one of the large parking lots located near the border post, or use the respective public transportation systems of both cities (both systems have a bus station built solely to serve the border crossing point).