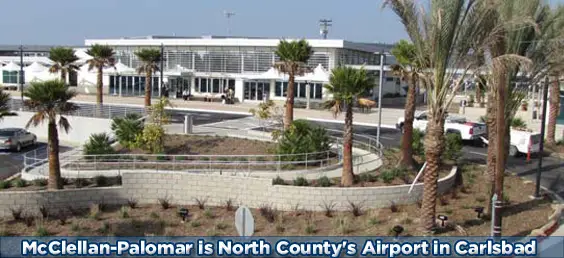 McClellan-Palomar Airport is North County's regional airport located in Carlsbad at 2198 Palomar Airport Road (760-431-4646). It is also home to a brand new state of the art $24 million green terminal featuring wide open front windows. The terminal include a spacious lobby, boarding lounge areas and the latest in modern airport technology and Wi-Fi service throughout the airport, high-tech passenger and baggage screening areas and the latest advancements in security. This airport serves both commercial and private aircraft.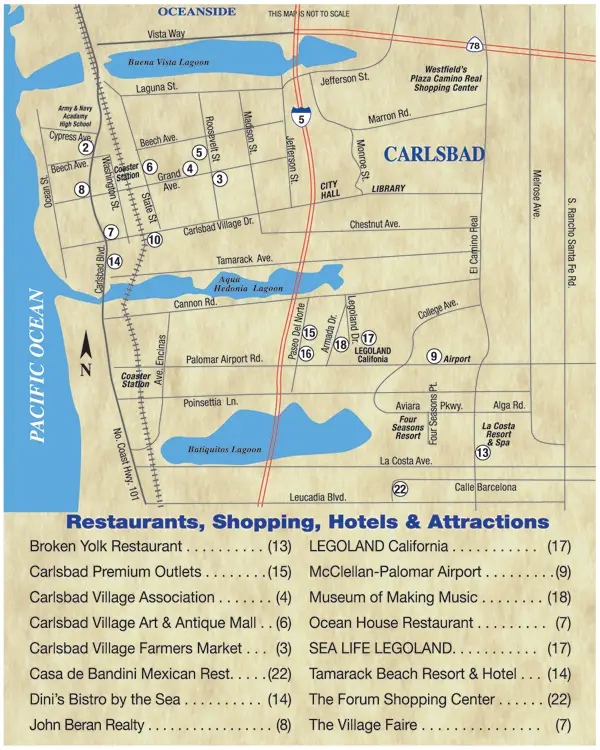 What makes this airport so popular is its proximity to business and recreation. Major corporations and world-class resorts are just minutes from the McClellan-Palomar. Some of the finest beaches in San Diego County are close to the airport and offer surfers, swimmers and sun worshipers balmy weather and beautiful ocean waters most of the year. Oceanside Harbor, with its shops, yachts and fishing boats, is a pleasant place to spend time. Legoland is two miles west of the airport.
This 487-acre airport is named after local aviator and civic figure, Gerald McClellan, and it is one of North County's little treasures. It's a great place for wide-eyed youngsters and veteran aircraft fans to see a variety of planes landing and taking off, from small private jets to larger commercial shuttles to antique biplanes.
Airlines & Daily Scheduled Flights
---
The airport is most used for general aviation and private planes, with regularly scheduled flights to Los Angeles International Airport (LAX) through United Express. With 160,00 takeoffs and landings a year by private planes, corporate jets and commuter airline flights, McClellan-Palomar is one of the busiest single-runway airports in the country. There are nearly 286 aircraft based at the airport, of which over 30 of them are jets or jet props.
The new terminal also serves United Express, providing seven daily flights to Los Angeles.
Parking at The Airport
---
Fifteen minute parking is available when entering the airport, make an immediate left turn then right, to the small 15-minute lot immediately in front of the terminal. Handicapped parking is also available in this area. Parking is free.
The 30 day parking lots may be accessed directly from the front of the terminal via the access road, or from Camino Vida Roble (one junction west of current airport main entrance) to Owens Avenue. Turn right onto Owens and the entrance to the parking area is at the top of the road. This on-site parking is available for just $5 per day, with a maximum stay of 30 days.
Airport Check-In Details
---
To facilitate an on-time departure, we recommend that you allow ample time for check-in. When traveling around holidays or other peak travel times, please allow additional time.
Hours and baggage information
Ticket counter hours of operation:5:30am-8:30pmCustomers with checked baggage should arrive 90 minutes before flight departure(2 hours if traveling internationally).
Security line information
Peak times:5:30am-7:30am,10:30am-12:00pm 

Peak days:

Daily

Peak line waits:

0-20 minutes
Dining at the Airport
---
The Landings at Carlsbad 2198 Palomar Airport Road (760-929-0200), is a great place to watch the airplanes land and take-off while dining or enjoying a cocktail. The restaurant is next to the terminal and features a dynamic view overlooking the runway. They are open Monday through Friday from 7 a.m. to close, Saturday.& Sunday from 8:30 a.m. to close, with happy hour from 4 p.m. to 7 p.m.
Rent a Car at the Airport
---
The guide below lists car rental companies frequently used by travelers. Call directly or use the Web links to find the rental company that best suits your needs. Rental policies, services and rates are subject to change and may vary among companies
| | |
| --- | --- |
| Name | Phone |
| Avis Rent a Car | 760.931.1393 |
| Hertz Rent a Car | 800.654.3131 |
Cabs and Shuttles To and From the Airport
---
A popular mode of transportation for locals, as well as out-of-towners, are these fast and efficient airport shuttles that will pick you up at your home and whisk you to and from the airport. The guide below lists shuttle companies frequently used by travelers. Call directly or use the Web links to find the shuttle company that best suits your needs. Policies, services and rates are subject to change and may vary among companies.
South Carlsbad Hotels & Resorts Near LEGOLAND
---
The Ramada Inn & Suites (13) at 751 Macadamia Dr. (800-644-9394) is conveniently located just a half mile from Carlsbad State Park.This 121 room hotel offers studios starting at ($89) and one- and two-bedroom suites starting at ($109) and ($229), respectively. They also feature a complimentary continental breakfast, heated pool and spa, laundry facilities, free wireless Internet, as well as meeting facilities. Enjoy the comforts of home with minifridges, microwaves, coffeemakers, cable TV and more.
Discover the Sheraton Carlsbad Hotel, at 5480 Grand Pacific Drive (760-827-2400), it is a spectacular resort minutes from the Carlsbad beaches and alongside the Crossings at Carlsbad and LEGOLAND California. With beautiful Contemporary Mediterranean architecture, rolling lawns, flowering shrubs and nearby pristine beaches, the carlsbad hotel offers a beautiful setting sure to inspire guests of every kind. The hotel sits alongside the Crossings at Carlsbad Golf Course and LEGOLAND California Resort, providing access to a wide variety of exciting things to see and do.
La Costa Resort and Spa at 2100 Costa Del Mar Road (760-438-9111), is a experience first-class luxury resort, with impressive accommodations in a beautiful Southern California location.
The Four Seasons Resort Aviara at 7100 4 Seasons (760-804-1588), is a 200-acre, Spanish colonial-style pleasure palace set high on a bluff carpeted with wildflowers. Its Arnold Palmer-signature golf course is superbly laid out around the natural topography of the resort. This is a picturesque course where the water traps are part of the lagoon and the clubhouse is a Spanish colonial structure offering every amenity that serious golfers require and that occasional duffers relish.
Inns of America Suites at 5010 Avenida Encinas (760-929-8200), is the best place to stay if you're looking for an ideal Southern California beach hotel. Located on the coast in beautiful Carlsbad, Inns of America Suites is conveniently situated near the beach and close to many of San Diego's best attractions.If you're looking for somewhere to stay near Legoland, Palomar Airport Business Park, Carlsbad Flower Fields, major golf courses, shopping, Oceanside Harbor, and the famous Del Mar Racetrack, then you will enjoy this amazing location.
Carlsbad Walking & Driving Tour
---