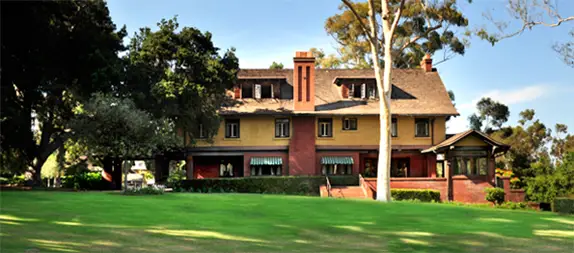 One of California's finest examples of the Arts and Crafts movement, the Marston House was constructed in 1905 for George W. Marston and his wife, Anna Gunn Marston. George Marston is noted for many things but most prominently as a civic leader whose interest and work in historic preservation, conservation and history is well known.
The property was designed and built by the internationally renowned architects William Sterling Hebbard and Irving Gill. Surrounded by five acres of rolling lawns, manicured formal gardens, and rustic canyon gardens, this 8,500 square-foot home became a house museum in 1987 after the Marston family gifted it to the City of San Diego for the enjoyment of the public.
Spend some time exploring the grounds, formal gardens and canyon pathways in the shade of towering pine, eucalyptus and oak trees. Learn about one of San Diego's most prominent families and the master architects and landscape designers who worked with the family to create one of the region's most important estates.
Marston House Garden Tour is available during summer hours ONLY (June 17, 2013 through Labor Day) on Saturdays & Sundays, 11am · 1pm · 3pm · 45 minutes
for $10. The garden tour takes you on a walk through the 5-acre estate beginning with the first plantings and landscape plan in 1905 to the 1928 introduction of a formal garden. You will also learn about the grand restoration plans for one of the few remaining arts and crafts canyon landscapes in southern California. Off Season exclusive tours are offered by appointment and group tours only, and are available by special request.
Banquets & Weddings at Marston House Museum & Gardens
Marston House Museum & Gardens
3525 Seventh Avenue
Call: (619 297-93277)
Price: Call for pricing
Balboa Park, San Diego, CA 92110
Size: Call for Availability
Are you interested in having your wedding in the gardens at the Marston House? The historic beauty of the Marston House Museum and Gardens in Balboa Park offers a lovely setting for weddings, corporate functions and other special events. The lush manicured gardens and towering trees make this historical monument a perfect setting for a garden wedding or special event.
The picturesque gardens accommodate up to 150 guests for a wedding ceremony. Featuring formal and rustic gardens, teahouse, fountain backdrop and beautiful historic landscaping have made this the wedding site choice for generations of San Diegans.