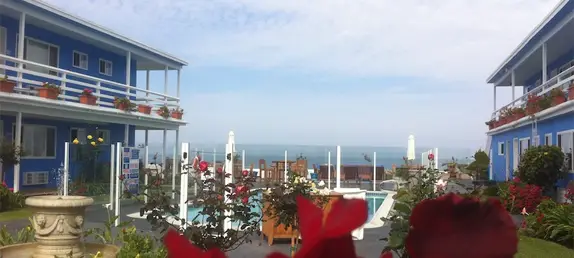 The Inn at Sunset Cliffs is the best oceanfront hotel in San Diego and is located in historical Point Loma, California. They are one of only a few San Diego hotels truly located on the Pacific Ocean, just steps away from Ocean Beach. The Inn at Sunset Cliffs is truly one of the only San Diego beach hotels that is actually a waterfront hotel. Oceanfront suites with the sea breeze just outside your door.
Sunset Cliffs creates scenic atmospheres all year long, with million-dollar views everyday. San Diego Beaches are near, being just a few blocks away from the hotel. Experience the great San Diego surfing with an awesome location to scope where to ride for your session just a few steps away from your room. Wake up to the sounds of the waves crashing onto our property. Look out at the Pacific Ocean to see the beauty San Diego has to offer. When you feel like relaxing, their two ocean view terraces allow you to view out over the horizon of the Pacific Ocean. Kick your feet up and let the wave take you away.
The Inn at Sunset Cliffs has on going opportunities for their customers customers. From relaxing massages on our ocean view terraces with Therapie Day Spa to local rentals for water sports, we want to accommodate all and have you take a piece of our real San Diego living experience with you to spread our way of life. Pure relaxation and comfortable atmospheres.
Banquets & Weddings at Inn at Sunset Cliffs
Inn at Sunset Cliffs
1370 Sunset Cliffs Blvd.
Call: (619-222-7901)
Price: Call for pricing
Size: Call for Availability
Their two ocean-view terraces allow space for you to hold your ceremony and wedding at the same location. Out-side catering is permitted with certain rules and regulations. For Private Events and Weddings we are able to host 105 people. We have our own tables and chairs we can supply you with for the time of the event for up to 105 people. These include round tables seating 10 and banquet tables for the bridal party.
The chairs are traditional white wood folding chairs with a white pad. When holding a private event or wedding at our location you essentially have our entire property to get creative. You may decorate the day prior to the event, such as lights, flowers, etc. Music is permitted on-site. Certain restrictions do apply. We will put you in your ideal event situation. If you rent the entire property you and your guests will be the only people on site. Have your ceremony on our lower terrace where the waves crash just below your feet.
Enjoy your reception on their upper terrace for the most beautiful sunsets. Ceremony only packages are available for parties up to 50 people.