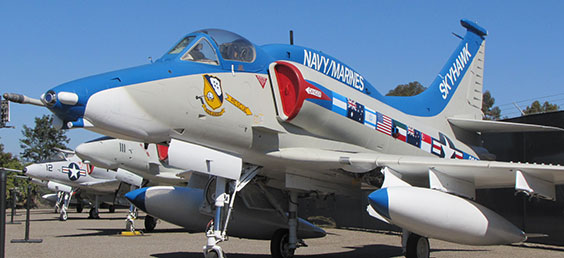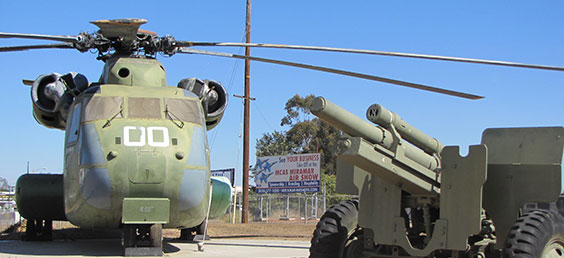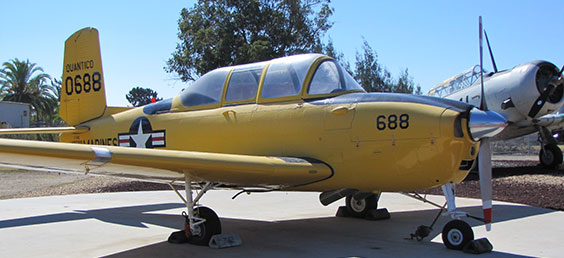 The Flying Leatherneck Aviation Museum which is adjacent to the Marine Corps Air Station Miramar on Miramar Road, San Diego (858-693-1723) [flyingleathernecks.org].
This is the only Command Museum dedicated to the history of Marine Corps aviation. The museum features more than 30 vintage and historically important aircrafts, ranging from World War II "Warbirds" to present-day jet fighters and helicopters.
Inside the museum are artifacts, photos and displays that help visitors relive the stories of courage, sacrifice and achievement in World Wars I and II, Korea, Vietnam, Desert Storm and Operation Iraqi Freedom.
The museum is 1.3 miles west of I-15. Look for their entrance gate marked with Marine Corps and American flags on the south side of Miramar Road. They also have a museum store. Admission is free. The museum is open to the public Tues.–Sun., 9 a.m.–3:30 p.m. except Federal holidays. Use this coupon and receive 20 percent off Museum store purchase. Credit cards: DISC, MC, VISA.
at Flying Leatherneck Aviation Museum
Flying Leatherneck Aviation Museum
Miramar Rd. / 4203 Anderson Ave
Host your event at this one-of-a-kind Aviation Museum. What sets this museum apart from all others is the fact that it is the only museum in the world dedicated to preserving the incredible contributions made by Marine Corps aviators and their ground support personnel and features several generation of Marine Corps aircraft.