What's there not to like about The Marble Room? It's unquestionably the best continental gourmet restaurant in San Diego's downtown Gaslamp District. It boldly offers dinner entrees which can be appetizers or complete meals depending on your appetite. Thus, the menu elections simply offer an array of produce, meats, fish, sundries and pastries. So diners can choose an entree as an appetizer or as a main course selection.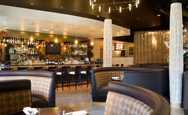 Then almost as soon as it is ordered, a beautifully garnished masterpiece in culinary excellence is presented by an attentive server. So no meal is simply a meal. It is a masterpiece in artistic presentation and taste. Easy to recommend is the Loch Duart Salmon and the grilled bok choy.
Another show-stopper is the savory chicken Marsala, which is smoothered in portobello mushrooms, basil, red onions and marinated tomatoes.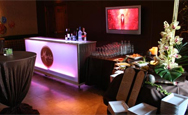 An added touch is sitting on the sidewalk patio on a warm summer day or evening under the stars.
Happy Hour at The Marble Room
Available Daily From 5pm to 7pm
$2 off all Bottled Beer, Wine by the glass & Premium Well Cocktails