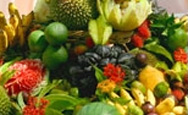 San Diego Catering Concepts offers full service catering and event planning services, from rentals to décor and everything in between. For over a decade and a half, San Diego Catering Concepts has designed banquets to fit their customer's needs, from the simplest barbecue or tailgate party to the most elegant wedding. SDCC also provides complete event planning services for corporate and individual clients throughout San Diego County.
They have the ability to cater events from 20 to over 1,000 guests anywhere in San Diego County. Anyplace, anytime, San Diego Catering Concepts will help make your occasion a special, memorable and successful event.
Ask them about their wine tasting room for your next event and our special discounts for schools and charity organizations. Chuck Ross, owner of South Bay Fish & Grill, has joined forces with Ken Coley of San Diego Catering Concepts to bring in-house and on-location catering events to all of San Diego County.
Catering at San Diego Catering Concepts
San Diego Catering Concepts
4934 Voltaire St # A
Call:
(619-223-1722)
Price:
Call for pricing or contact
Christie Gowdy
Home based at the romantic Chula Vista Harbor gives this restaurant the edge for a breathtaking presentation & vise & superb cuisine.