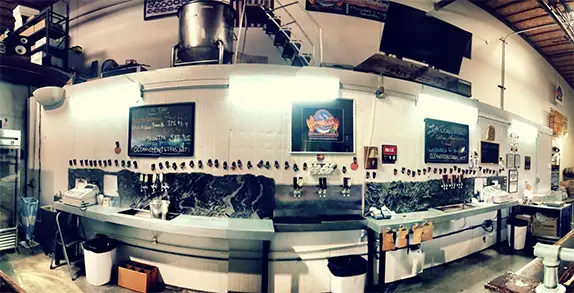 Oceanside Ale Works (15) is located at 1800 Ord Way (760-721-4253), which is 5 miles east of Interstate 5 Freeway off of Oceanside Boulevard. Their tasting room is open Thurs. and Fri. from 3 p.m.-9 p.m.; Sat. and Sun. noon till 6 p.m. They regularily have a dozen microbrewed beer made manually on tap. And in keeping with having strong ties to the Oceanside community their beers bare the names of Oceanside landmarks such as San Luis Rey Red Ale, Pier View Pale Ale and Buccaneer Blonde.
So get in touch with what it's like to be a local by showing up here for a local brew made and brewed by locals yet sold nationally. And in honor of your visit buy a growler, a T-shirt bearing the Brewery's name and a set of pint glasses to impress your friends and family. If you haven't guessed it yet, San Diego county the microbeer capital of the world with more gold medals awarded at the last American Beer Festival than any one country won.
Oceanside Ale Works was founded in 2005 by local Oceanside Fire Fighter Scott Thomas and local school teacher Mark Purciel in the heart of the city of Oceanside, California and is one of the few manual brew houses in the USA. Inspired by European brewing traditions and committed to innovations inspired by venerated West Coast brewers, our ales have won many awards across the country, and locally at the San Diego County Fair.
Oceanside Ale Works is currently producing Pier View Pale Ale, San Luis Rey Red Ale and American Strong Ale along with seasonal ales – made from Old World recipes brewed with a Southern California interpretation. Meeting quality, taste and standards of consistency is a promise of integrity that only an owner/brewer can make. Most recently, they were also recognized with a GOLD medal at the San Diego International Beer Fest for their "DUDE" Double IPA and with also won a BRONZE medal for the "OAW" Orange Agave Wheat.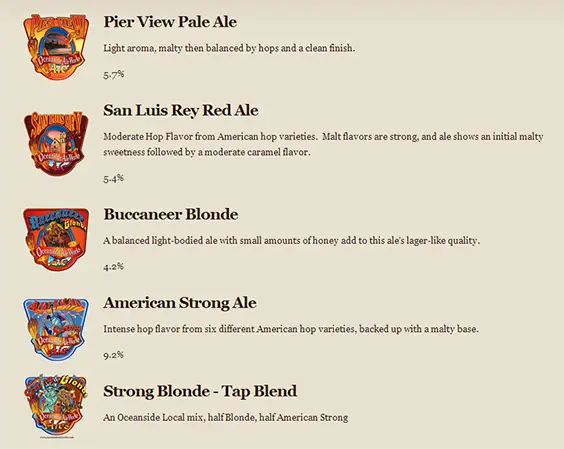 Banquets at Oceanside Ale Works
Oceanside Ale Works
1800 Ord Way
Call: (760-721-4ALE)
Price: Call for pricing
Size: Call for Availability
The tasting room opened is available for banquets and events, with a maximum occupancy of 142 people. We are open for fundraisers and private parties. Fundraisers have a $100 non refundable deposit and are open to the public, private parties are $200 non refundable deposit and the brewery is closed to the general public. The price for private parties is the deposit plus a $300 minimum bar tab.