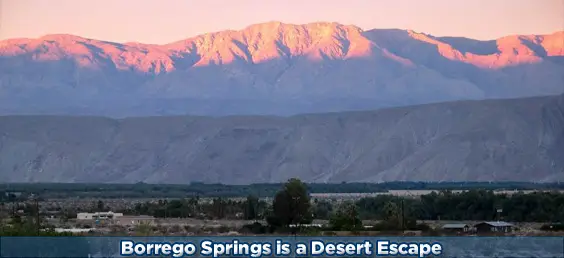 San Diego County's diversity is again demonstrated by the fact that the county is also home to the largest desert state park in the world. The impressive 630,000-acre Anza-Borrego Desert State Park is nearly the size of the state of Rhode Island. This spectacular desert park has majestic mountains, beautiful canyons, hiking trails, camping, wildflowers and miles of scenic beauty. At night the sky is filled with millions of glittering stars. The resort community of Borrego Springs has a year-round population of 3,429 residents.
Many visitors fall in love with Borrego Springs and eventually come here to live. The resident expert on resale for Borrego Springs properties is Tina Myrdal of Desert Sky Properties  at 680 Palm Canyon Dr. at Christmas Circle (760-767-5809).
Where to stay just got a whole lot better with the reopening of La Casa del Zorro at 3845 Yaqui Pass Rd. This is a world-class resort where discriminating travelers come to escape. La Casa del Zorro offers 44 deluxe poolside rooms, each with spectacular oversized bathrooms and large dressing areas, patios or balconies. Nineteen private casitas, nestled within the 42-acre property, feature a private pool, spa or both, and rooms are available in one- to four-bedroom floor plans. With a reopening introductory 25 percent discount until August 31st 2013, this is a sure bet. Call (760-767-0100) for reservations.
Where to Stay in Borrego Springs
---
Borrego Valley Inn, 405 Palm  Canyon Dr. (800-333-5810) ($150–$235). This southwestern-style adobe inn features 15 rooms with private patios, kitchenettes, two pools and two spas. Credit cards: AE, DISC, MC, VISA.
The Palms at Indian Head, 2220 Hoberg Rd., P.O. Box 525, Borrego Springs, CA 92004 (800-519-2624) ($99–$259). This historic inn features 12 cozy rooms with beautiful desert views, an Olympic-sized swimming pool and Jacuzzi. Plus, enjoy delicious steaks and seafood in a romantic setting at their Krazy Coyote Bar and Grill (1). Credit cards: AE, DC, DISC, MC, VISA. All rates are are subject to change without notice.
Popular Local Dining in Borrego Springs
---
Carlee's Place 660 Palm Canyon Dr. (760-767-3262) is open daily for lunch and dinner, 11 a.m. to 9 p.m. Nightly specials are from 5 p.m. to 9 p.m. and include great-tasting burgers, steaks and pasta which are served in an informal setting with a large screen TV and pool table.
Kendall's Cafe at The Mall on Palm Canyon Dr. (760-767-3491) is open daily for breakfast, lunch and dinner from 6 a.m. to 8 p.m.. It is a favorite coffee shop and local favorite.
The Red Ocotillo 818 Palm Canyon Dr. (760-767-7400) Is open daily for breakfast, lunch and dinner, 7 a.m. to 9 p.m. and feature delicious breakfast and brunch entrees and a pet friendly patio.
Explore Anza-Borrego State Park
---
Most of Borrego Springs' 644,000 visitors come in the spring when the wildflowers are in full bloom. So be sure to bring your camera. A must-see attraction is the Anza-Borrego Desert State Park Visitor's Center (8), (760-767-4205) which showcases the natural beauty of the desert, is home to over 1,000 species of plants, 56 species of reptiles and amphibians, 297 varieties of birds and 116 different species of butter flies. The Visitor's Center is open daily 9 a.m.-5 p.m., Oct. 1-May 31. During the hot season, June 1-Sept. 30, the Visitor's Center is open 9 a.m.-5 p.m. on weekends and holidays. It's closed weekdays.
An extremely popular desert activity is off roading and the leader in this recreational industry is San Diego Motorsport Rentals with two locations to serve you in Ocotillo Wells at 5965 U.S. Hwy 78 in Ocotillo Wells (760-767- 4020) and Glamis Beach on Gecko Road in Brawley (760-767-4020). They rent dune buggies, quads, side-by-sides and dirt bikes.
Travel by Air to or From Borrego Springs & Ocotilla
---
Ocotillo Airstrip is a great way for pilots to visit this remote area. The strip's two runways, one 2,475 feet long and the other 4,210 feet, sit on a dry lake bed about 100 miles east of downtown San Diego. A small café, gas station and general store are directly across State Route 78. Tie-downs are available at the airstrip's transient area.
The Borrego Airport at 1820 Palm Canyon Drive (760-767-7415) is three miles east of Borrego Springs and 100 miles northeast of downtown San Diego.
The Agua Caliente Airstrip is north of Interstate 8, on County Highway S2, 95 miles east of San Diego and serves residents of rural east San Diego County and visitors to Agua Caliente Hot Springs County Park.
Jacuma Airport is just off of Old U.S. Highway 80, which bisects the town of Jacumba just about three miles west of the airport. Flying over, or driving by on Interstate 8, you might miss tiny Jacumba. But hundreds of soaring enthusiasts know the airport and some even know where the town is. However, few people know what Jacumba is all about.
Walking & Driving Tour of Borrego Springs
---