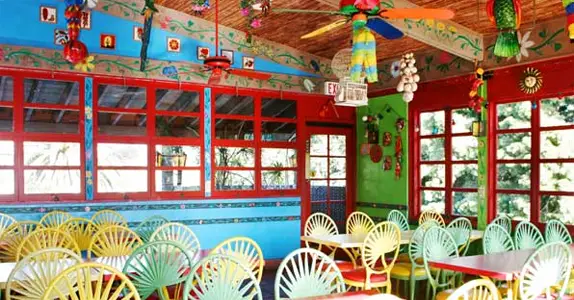 A delightful Mexican restaurant that keeps getting better with age is La Piñata. It's celebrating their 85th year in business as the oldest operating restaurant in Old Town. There are two colorful dining rooms with a large variety of piñatas for sale, which hang delightfully from the ceiling. The upstairs dining room has a golf course view and can accommodate groups up to 50 people.
Lots of repeat diners prefer the large romantic patio with its fireplace and a bubbling fountain in a garden setting. Once seated, you have your choice of a huge, crisp cheese quesadilla or chips as a free appetizer. There are lots of standards such as tacos, enchiladas, chiles rellenos and burritos.
Plus, there are many really delicious house specialties including shrimp fajitas, fish tacos and pescados rancheros. It consists of Alaskan cod simmered in a salsa of green bell peppers, onions and tomatoes. It's served with rice, beans and hot tortillas. The carne asada is served with savory guacamole, tender strips of roasted green California chili, beans and hot tortillas. Don't overlook the combination plates or the Mexican-style lobster. They also have ample free parking and take reservations for parties of six or more.
Banquets at La Piñata
Call: (619-297-1631)
Price: Call for pricing
Old Town San Diego, CA 92110
Oldest Mexican Restaurant in Old Town and a local favorite for generations. They have two colorful dining rooms, a large patio and an upstairs dining room that can accommodate groups up to 50 people. No room charge.