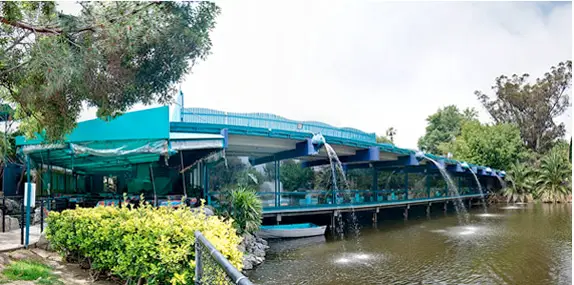 Can you imagine a restaurant in La Mesa in East County having its own private lake. Yes, it's true. Plus, it has been a local favorite since the day it opened over 50 years ago. With so much success it should come at no surprise that it has been Voted San Diego's Best Seafood Restaurant by the San Diego Union/Tribune newspaper for 14 years in a row. And the accolades doesn't stop there. This home-style restaurant is true to its name in that the architecture of the restaurant is built to resemble an actual underwater sea grotto just like the one on the Isle of Capri in the Mediterranean Ocean. This is one destination you should not miss discovering!
The big attraction though is their delicious seafood delicacies which come fresh from the ocean daily. So what to order is always the question because everything is so good. Every body's favorite is their succulent red lobster, fresh fish, seafood, salads, pastas and their world famous fish and chips.
Plus, they have a cocktail lounge, so you can have your favorite libation to accompany your favorite entree. And if your favorite puppy wants to join you for dinner, they can sit next you outdoors overlooking the lake at a stylish table with an umbrella. This place is every bit as good as it is being described!

So come on in and try delicious lobster, fresh seasonal catches, salads, pastas, and Mama's famous clam chowders and crispy fish & chips. Their delicious food, casual atmosphere and friendly home-style service will quickly make Anthony's Fish Grotto your favorite San Diego seafood restaurant.
Banquets at Anthony's Fish Grotto La Mesa
Anthony's Fish Grotto La Mesa
9530 Murray Drive
Call: 619-232-7408
Price: Call for Pricing
Their Star of the Sea Event Center provides a spectacular waterfront venue for personal celebrations and business events. Perched above the San Diego Bay, and offers unparalleled views, floor to ceiling windows, a beautiful bar lounge and outdoor deck.